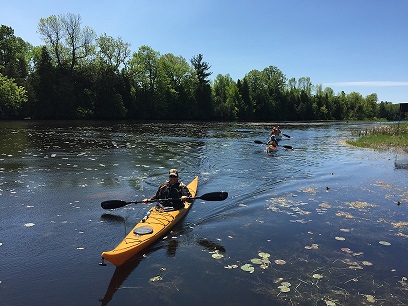 Expert and novice paddlers alike will enjoy the freedom of navigating the South Nation River.  These waters meander though some of Ontario's most productive agricultural and forested lands. Take in the local scenery and attractions along the River's tranquil shores as you get to know the region by water.
South Nation Conservation's canoe and kayak guide helps you safely plan for five separate, daylong trips. Please be aware that there is no camping along the South Nation River and arrangements for accommodations should be made ahead of time.
Beginning in the historic Village of Spencerville, these routes continue downstream through the most accessible and navigable parts of the river. Water conditions vary from placid sections to fast-moving stretches, making the South Nation ideal for family canoeing.
Times and distances in the guide vary according to: the skill sets of paddlers; time of year; and water levels. Always be aware of changing river conditions, and remember that there may be hazards that maps do not indicate. Learn more about up-to-date watershed conditions here or contact  SNC for specific information when planning your outing.
Click here for a map of our canoe and kayak routes: Routes 1- 3 and Routes 4-5.
SNC offers a number of river access points and Conservation Areas providing various facilities located along the course of these routes. Learn more about boat launch sites here.
Don't miss out on these 2022 canoe and kayak events!