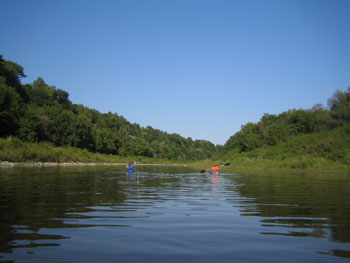 Access the Swallows Path route beyond High Falls Conservation Area in Casselman, from Rue Principle South to Rue Brisson. Follow this Road for about 300 m to the River Access.
Over twenty years ago, 17 hectares of farmland gave way into the South Nation River. As you paddle this course near the bridge in the former Hamlet of Lemieux, you will see evidence of this landslide, and another from 1971, upstream. The presence of leda clay, high steep banks, and wet ground conditions found in this part of the watershed, are major contributors to such natural disasters. The River is fairly narrow in some areas from Casselman to the Séguin Bridge because of landslide scars.
Watch for groups of holes near the top of steep riverbanks on your travels to the Séguin Bridge—this is habitat for bank swallows. These migratory songbirds build nests in vertical cliffs by digging 60-90 cm tunnels with their bills and feet.
Starting point: Rue Brisson, Casselman
Ending point: County Road 9, Fournier
Estimated distance: 40 km (D-E on map)
Estimated time: 10 hours