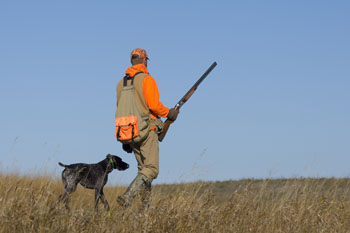 Responsible hunting and trapping is beneficial to the ecosystem; South Nation Conservation owns over 13,000 acres of sustainably managed forests, wetlands, and grasslands across the watershed. With permission, SNC allows organized hunting and trapping on some of its properties. Access our online mapping tool to determine which properties permit hunting and trapping activities.
Wildlife occupying SNC lands may be hunted in season and include: deer; moose; wild turkey; ruffed grouse; woodcock; ducks; and rabbits.
Hunters must have provincial permits from the Ministry of Natural Resources. Learn more about provincial hunting regulations here. All Conservation Authority rules, and Ministry of Natural Resources laws apply to SNC hunting areas. Be aware of specific hunting requirements for each location. To report poaching and other hunting violations, please call the Ministry of Natural Resources Hotline at 1-877-847-7667.
All hunters are required by law to get written permission before entering lands or tracts administered by SNC. A valid hunting license must be produced. No matter the fee paid, letters of permission are effective for each open season through a full year. Permit fees help to support land management activities and our Youth Hunt Apprenticeship Program.
Please submit a hunting permit application to obtain your annual hunting or trapping permit.