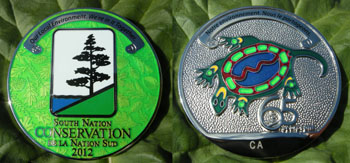 South Nation Conservation has a strong history in watershed management and leadership in applying sustainability practices. As an agency established under the Conservation Authorities Act of Ontario in 1947, SNC has decades of practical experience in protecting our environment and engaging communities. Today, it manages 4,480 km2 of land in Eastern Ontario; employs more than 40
staff; and has lead hundreds of stewardship projects to success.
Our Vision
'Improved Water Quality for a Healthy Ecosystem: Our vision encompasses water levels which satisfy the needs of humans and the environment, healthy rivers and natural shorelines, and safe wastewater management practices.'
Our Mission
'To ensure that the management of natural occurrences, natural resources, and human activities results in the protection or improvement of water resources.'
Our Expertise
Conservation is our core competency. SNC offers knowledge and experience to help our partners contribute to a healthy region. This includes: ecology and the study of water quality, natural habitats, plants, and animals to help us identify environmental needs, set targets, and restore natural areas; sustainable community development to advise partners about land use, development proposals and construction; and environmental education to help community members appreciate their local environment.
Working Together
As one of Ontario's 36 Conservation Authorities, SNC protects and restores regional ecosystems. It does this in partnership with its 16 watershed municipalities, comprising portions of: United Counties of Prescott and Russell; United Counties of Stormont, Dundas and Glengarry; United Counties of Leeds and Grenville; and the City of Ottawa. The member municipalities appoint a 12-member, plus past chair, Board of Directors to govern all of our work. We carry out our mandate to manage the natural resources in the watershed, with the help of many forward-thinking individuals, groups, and agencies.