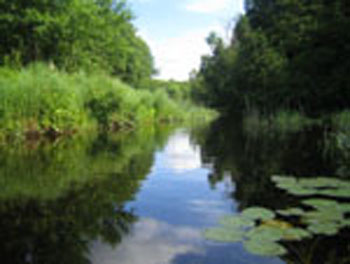 Paddle the headwaters of the South Nation River upstream of a 200-year-old grist mill—the last one that operates on these banks. The popular Mill Run route has high water levels in the early spring, producing rapids and eddies for an exciting start to your journey.
Parking is available at the mill. You will have to tow your boat up Water Street on-foot, to the River Access beyond the bridge.
This pastoral trip along the countryside features mature hardwood stands and hemlock groves. Keep an eye out for waterfowl—there are excellent opportunities to catch site of osprey and great blue herons.
Starting point: Water Street, Spencerville
Ending point: South Mountain
Estimated distance: 22 km (A-B on map)
Estimated time: 6 hours