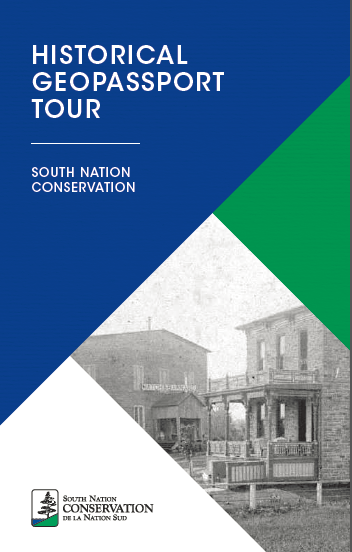 Welcome to the South Nation Conservation Historical Geo-Passport!
This passport guides users through a real-life adventure within South Nation Conservation's (SNC) jurisdiction in Eastern Ontario, featuring twenty geocaches that guide you through some of the history of the area.  
The history of the South Nation River starts with the receding of the massive glacier that once covered most of what we now refer to as North America. As the ice melted it created a huge area of water known as the Champlain Sea. As the waters dispersed, many rivers, including the South Nation were all that
remained. As the geography changed and the plants and trees grew, the River continued to provide vital nourishment to the area.
Throughout the centuries, the natural resources of the watershed have attracted people to this part of eastern Canada. The First Nations were the first who settled the area to partake in the riches of the forests and streams and were followed by European settlers who carved out farms and villages and reaped the natural bounty of the watershed.
Today the South Nation River and its communities welcome today's "explorers" who come to learn about the rivers never ending contributions to our area of the world.
Download your copy of the South Nation Conservation Historical Geo-Passport log sheet here.
For a general locations map of the 20 geocaches hidden in our watershed, please click here.
Instructions
Register your free username at Geocaching.com
Print out a South Nation Conservation Historical Geo-Passport Answer Key
Bring along a handheld GPS device or use a geocaching app on a smartphone
Fill out the Historical Geo-Passport as you find hidden caches 
Prizes & Rules
Be sure to mark the code word in the Historical Geo-Passport
If you find 15 of the 20 hidden caches, you are eligible to receive a South Nation Conservation geocoin. To claim your geocoin, please mail, fax, email or drop off the completed form to:
38 Victoria Street. P.O. Box 29 Finch, Ontario K0C 1K0
Tel: 613-984-2948 | Toll free: 1-877-984-2948 | Fax: 613-984-2872 | Email: info@nation.on.ca 
Office Hours: South Nation Conservation's office is open Monday to Friday, 8:00 a.m. to 4:00 p.m.
The office is closed for all statutory holidays. Outside of business hours, the Watershed Geo-Passport can be submitted at the afterhours dropbox located at our front door entrance. Allow two to four weeks for delivery of your geocoin prize (while supplies last).
Terms & Conditions
Limit of 1 geocoin per geocaching team (household)
South Nation Conservation is not responsible for Watershed Geo-Passports lost in the mail and reserves the right to limit or revoke this offer at any time
Click on any of the links below to learn more about the 20 geocaches in the Historical Geo-Passport:
Provincial funding support was received to support this project.