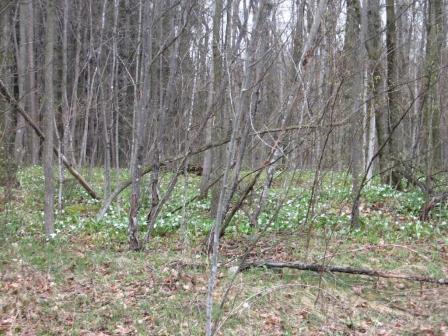 The Moose Creek "Menzies McRae and Family" Recreation Trail is almost 1 km in length and offers great hiking/walking opportunities for local Moose Creek residents and beyond, to enjoy their watershed. The trail runs through a mixed forest dominated by soft maples, hemlock, cedars and yellow birch. Early spring wildflowers are abundant along the trail including trilliums, Dutchman's britches, trout lily, hepatica and violets.  The diverse habitat also offers great birdwatching opportunities. 
Six years ago, two community members brought forth the idea of a trail project in the Moose Creek Community. South Nation Conservation (SNC), alongside the Moose Creek Community Watershed Committee considered various locations for a trail, but it was through a generous offer from Mrs. Viola McRae, that the current trail location was established. Mrs. McRae's husband, Menzies, regularly walked the trail and was pleased to have the trail's official title, named in his name.
Lafleche Environmental Inc., a company located just outside Moose Creek generously funded the construction of the trail. After 3 years of working closely with the Township, the trail is now complete. A dedicated group of Moose Creek residents will manage the trail, with support from the Township of North Stormont and SNC to maintain/improve the following trail facilities: trail signage, garbage receptacles, annual hazard tree inspections, park benches and interpretive signage along the trail. All organizations involved in this project played an important role in making the new walking trail a reality.
Trail Features
Trail Location & Access: 16810 8th Road to Simeon Lane, Moose Creek ON
Length: 0.902 km
Conditions: Moderate difficulty
Activities: Hiking/walking, birding, geocaching, snowshoeing