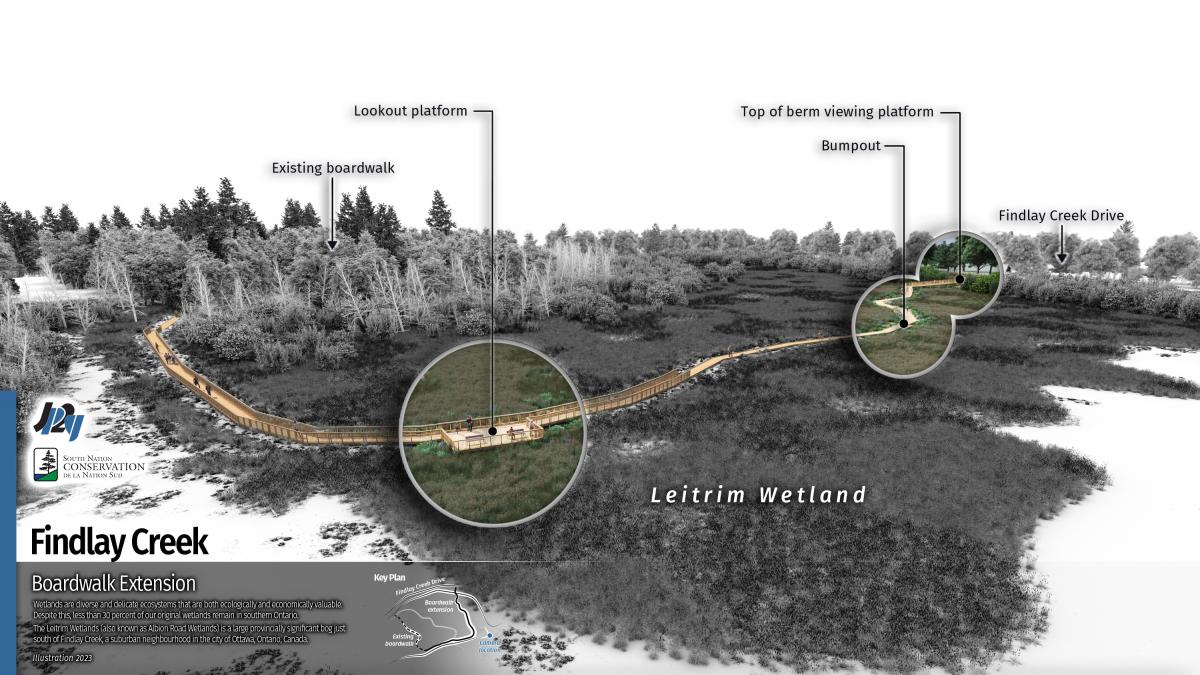 Leitrim Wetland
The Leitrim Wetland is a Provincially Significant Wetland and Area of Natural and Scientific Interest, surrounded by urban development, in the Findlay Creek community in the City of Ottawa.
The wetland is managed by South Nation Conservation (SNC) in partnership with the developers Tartan and Tamarack Homes and the City of Ottawa.
Stewardship and monitoring activies are reported to the Leitrim Wetland Advisory Committee which was established in 2001 and consists of community, developer, and environmental agency representatives. 
Learn more about the Leitrim Wetland here.
Findlay Creek Boardwalk
The development of a recreational and educational asset was included in the Leitrim Wetland Stewardship Agreement, established in 2004, to inform the future management and stewardship of this important natural ecosystem. This included building an accessible looped boardwalk network and a place of educational interpretation within the community. 
SNC created the existing boardwalk in 2012 and has been fundraising to complete the looped trail network, in consultation with Leitrim Wetland Advisory Committee, since that time.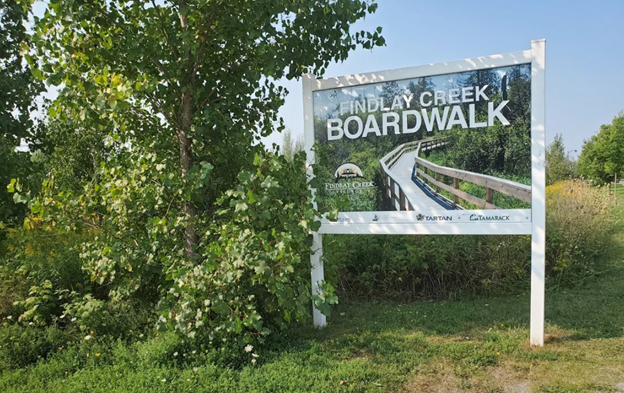 Findlay Creek Boardwalk Extension
With funding support provided by the Government of Canada, SNC will be extending the Findlay Creek Boardwalk in 2023 by approximately 540 metres to complete the looped boardwalk network.
Environmental studies took place in 2022 to inform the placement of the boardwalk extension and minimize the impact on the natural environment. Draft design options were prepared and can now be accessed by the community for feedback. 
The project will allow more accessibility to the recreational area and give residents of Findlay Creek the opportunity to explore the wetland in the future, while still preserving its natural features and important history.
Certain work activities are scheduled during winter months, when the ground is frozen, to limit the disruption to wetland habitat. However, much of the construction work will take place through Spring and Summer 2023, with the project completed by October 2023.
A public information session is scheduled February 1, 2023 at the Vimy Ridge Public School.
SNC plans to host an official re-opening with the Findlay Creek Community Association in Summer 2023.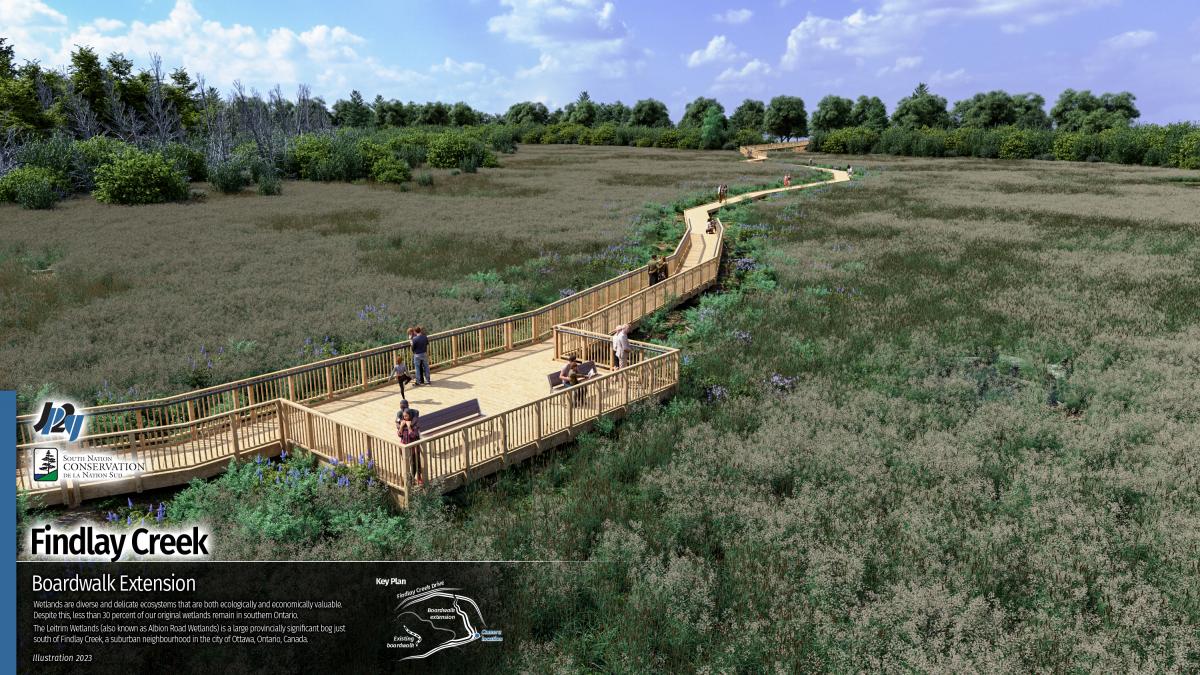 Boardwalk Design Drafts
Draft boardwalk extension designs were prepared following the completion of environmental and geotechnical studies within the Leitrim Wetland.
Please feel free to revisit this webpage as drawings and designs are updated based on stakeholder and community feedback. 
For more information, see the full Draft Report here: Findlay Creek Boardwalk Extension Report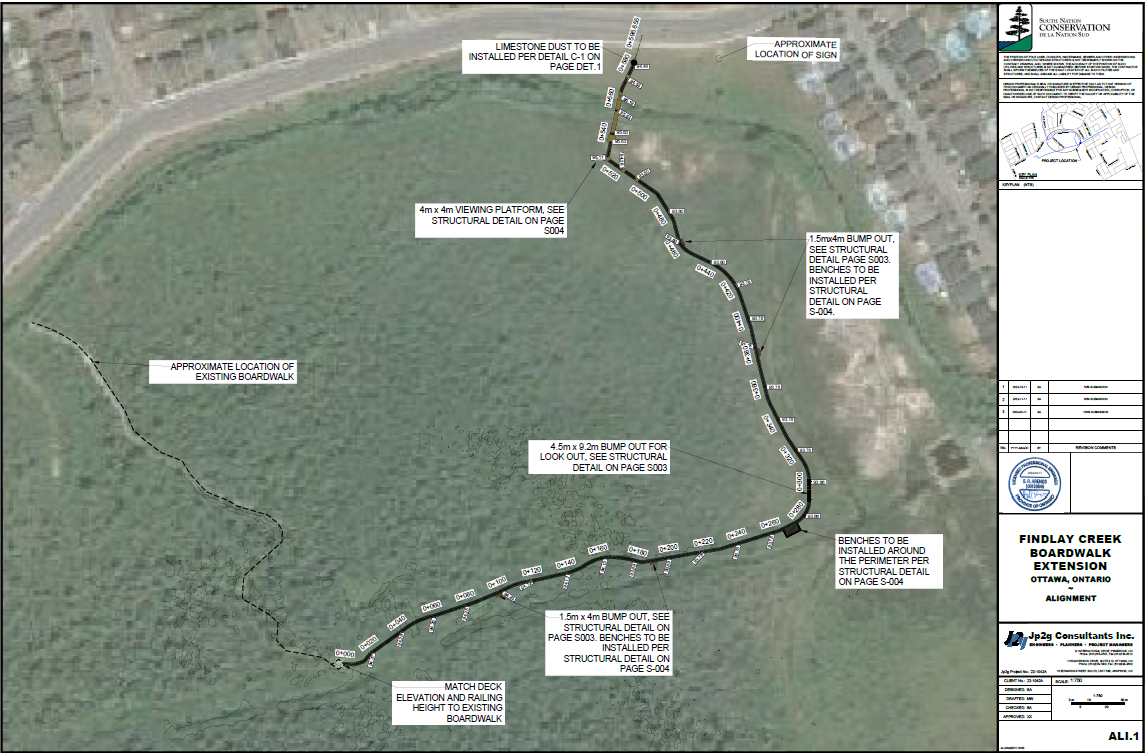 Public Information
A public information session is scheduled for Wednesday, February 1st, 2023 from 7:00 to 9:00 PM at the Library at the Vimy Ridge Public School at 4180 Kelly Farm Drive. 
Residents are encouraged drop in anytime between 7:00pm and 9:00pm to meet with staff to learn more about the project and provide feedback on the boardwalk designs. 
Project notices were placed on Findlay Creek Drive and mailed to nearly 2500 adjacent property owners mid January 2023.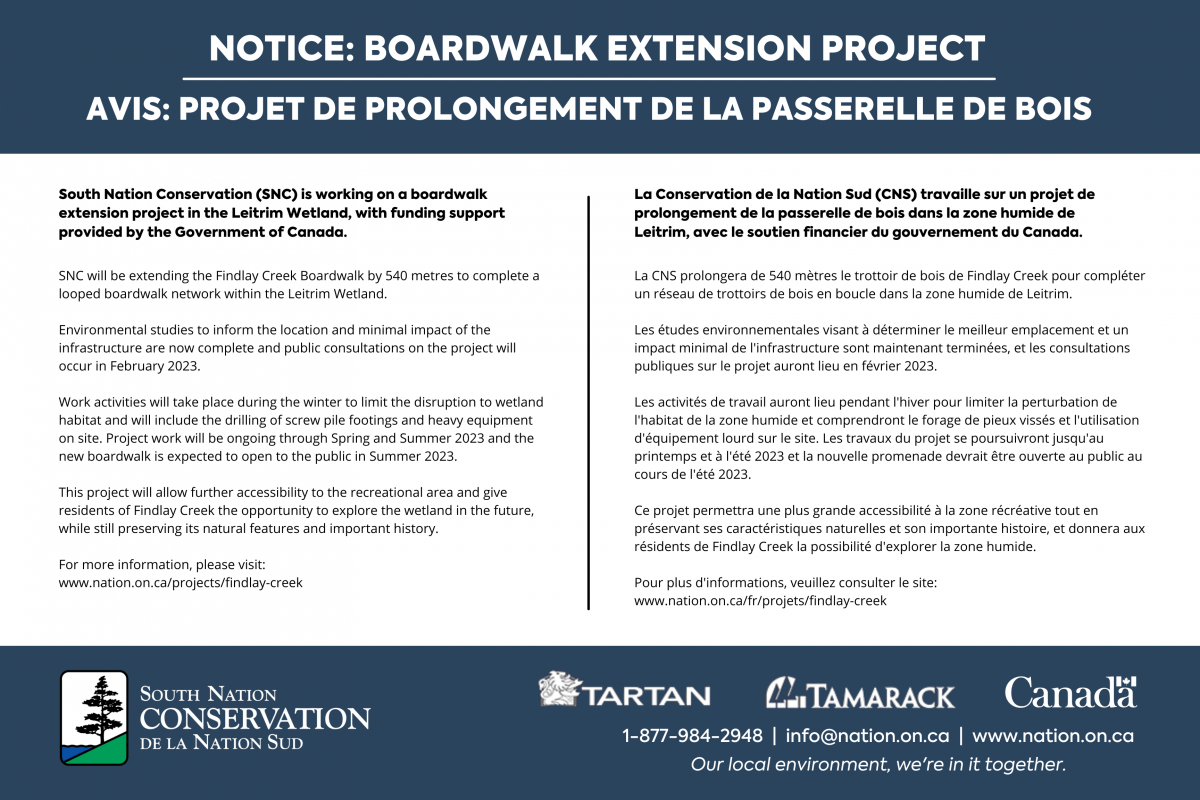 ---
Feedback Welcome: Let us know what you think - Questionnaire Form
---
More Information
Findlay Creek Boardwalk Extension - Frequently Asked Questions
Findlay Creek Boardwalk Conservation Area
Leitrim Wetland Advisory Committee
Findlay Creek Boardwalk Extension Report
Letter to Residents of Findlay Creek
Leitrim Wetland Management Plan
Federal Funding Announcement Event - Agenda
Press Release: Project Announcement
Findlay Creek Boardwalk - Tender Drawings
---
  *PROJECT WEBPAGE WILL BE CONTINUALLY UPDATED*