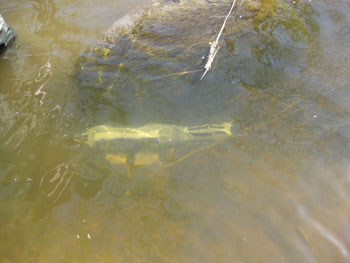 South Nation Conservation, in partnership with Laflèche Environmental Inc. (LEI), is developing several programs to address issues of water quality within the Moose Creek watershed.  Since 2006, joint strategies and goals to protect, improve, and manage water quality include: routine monitoring of stream health; implementing stream restoration projects; and an LEI incentive program to encourage local residents to adopt fish-friendly practices.
As part of those goals, SNC staff experts take numerous water samples using a piece of monitoring equipment called a sonde, which provides almost instant readings regarding water quality. In Moose Creek, the sonde collects dissolved oxygen, turbidity, conductivity, pH levels, and temperature. 
These parameters are good indicators of stream health.  If we detect a problem, such as low oxygen levels, the readings help staff know where to look for other issues and determine what corrective measures to take.
Residents of the Moose Creek watershed may qualify for grants to enhance or restore aquatic habitat. Learn more about grants here.