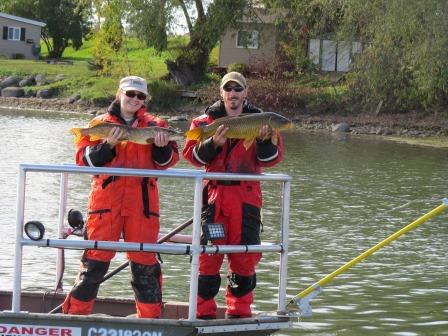 SNC fish ecology experts provide local knowledge of the 72 fish species that live in the South Nation River system. We assess fish populations and communities in water by using a variety of sampling gears and methods. Fish are temporarily captured using hoop and seine nets; backpack electro-fishing devices; and minnow traps. 
The overall health of the South Nation watershed is carefully monitored and reported by SNC, using fish as one indicator. The Near Shore Community Index Netting (NSCIN) monitoring program, for example, supplies baseline data that provides insight into population dynamics and species variety, abundance, and health within the six reaches of the South Nation River. The reaches are defined at water control structures located on the main stem of the river. Typically, we sample one reach per year.
An in-depth Fish Population Analysis is available that summarizes SNC's first 10 years of fish sampling data.  The report can be requested by contacting info@nation.on.ca.
Learn about the 72 fish species in the South Nation River here.

Find out more about SNC's fisheries monitoring along the South Nation River by selecting one of the reports listed below. 
The summer of 2017 marked the last year of SNC's hoop netting efforts. With over two years of data captured for each of the reaches of the South Nation River, SNC is now working towards filling knowledge gaps in areas where hoop netting would not be feasible. These efforts include electrofishing, fyke netting and seine netting in smaller and shallower areas of the watershed.