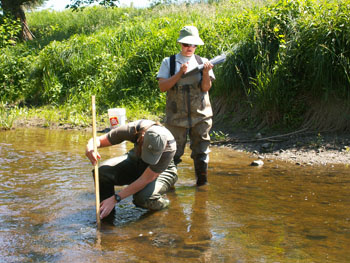 SNC, in partnership with the Ministry of Natural Resources, maintains a network of stream gauges, rain gauges and snow course sites within the watershed. This data is used to quantify the components of the hydrologic cycle.
We analyze the data from the stream and rain gauges daily to apply to programs and projects such as Flood Forecasting and Warning, Low Water Response, water control structures management, and shoreline erosion repair.
Access SNC's interactive web map where you can view real-time and historical water levels here.
View Station Data:
Daily Flows
Water Levels & Flow
Precipitation
Temperature
Snow Survey
DATA DISCLAIMER:
The Water Levels and Precipitation Data on this website (the "Data") has not been quality controlled by South Nation Conservation ("SNC"). SNC assumes no responsibility for the accuracy of the Data. Users of the Data indemnify and save harmless SNC and its employees, agents and directors from and against all losses, injury or damage, or actions, whether in contract, tort or otherwise, claims and demands, costs, damages, suits or other proceedings by whomsoever brought which are in any manner based upon, or occasioned by any injury to persons, damage to or loss or destruction of property, economic loss or infringement of rights caused by, in connection with, or arising directly or indirectly from the use of the Data. SNC reserves the right to discontinue or modify the website and Data at any time. SNC owns and retains all rights, title and interest in and to the Data. Publication or reproduction of the Data is prohibited without the expressed written consent of SNC.