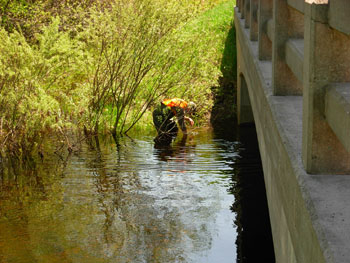 There are over 1,200 municipal drains in the South Nation watershed to remove excess water from the land. Proper drainage is essential to local agriculture and development where most of the topography is very flat. Drainage ditches were dug, often by hand, decades ago to help area farmers drain wetlands for agricultural purposes. 
Working around water?
Drain maintenance and repair activities have the potential to alter essential fish habitat. Some drains contain ecosystems that are sensitive to routine maintenance practices, and may take a long time to recover. This does not mean that maintenance activities can never be completed in these drains—the work will require a project-specific evaluation to determine the mitigation that may be required. Other drains contain habitat and fish species that are resilient, and will recover from drainage work within a relatively short time period. These impacts can be minimized while the work is in progress if specific conditions are followed.
Who Classifies the Drains?
Where applicable, SNC is classifying drains using collected data and local knowledge. The types can then be transferred to maps for use by the agricultural community.
We review municipal drain maintenance and repair activities including culvert replacements, erosion repair, and watercourse cleanouts. A new Ontario protocol is providing a simplified process that allows us to reduce costs and pass those savings onto member municipalities and local landowners. Learn more about the new Ontario Drainage Act and Conservation Authorities Act (DART) Protocol here.
To help protect the landscape in times of drought, we encourage the use of tile control valves on municipal drains. Learn more about controlled tile drainage here.
Click here to view a video on controlled tile drainage from the Ontario Soil and Crop Improvement Association.