SOUTH NATION CONSERVATION WELCOMES CITIZEN SCIENTISTS
---
Submitted by N Machado on Mon, 29/09/2014 - 10:30am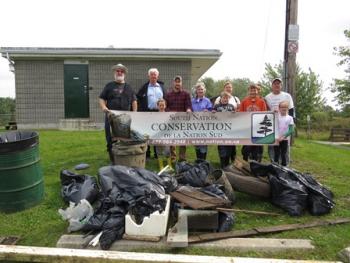 Have you ever considered becoming a "citizen scientist"?

South Nation Conservation is always looking for volunteers to help out with its Stream Watch Program which includes monitoring watercourses, tree planting, wildlife habitat enhancement, and invasive species removal.

The program has been funded by a Royal Bank of Canada Blue Water Grant in the amount of $78,650.

"It's a great way for interested volunteers to become citizen scientists active in a variety of projects," said SNC Fish and Wildlife Technician Philip Duncan.

"The main focus is to show community members the importance and sense of satisfaction gained from protecting the environment in their own backyard."

Citizen scientists don't work alone. They're guided by experienced SNC coordinators in conducting their assignments. Every little bit helps in improving the condition of the waterways crisscrossing SNC's 4,200 square-km watershed.

A recent example occurred Sept. 20 when 14 volunteers from Greely came out for Garbage Cleanup Day. They collected trash along a 1.3 km section of Shields Creek.

"Most of the garbage accumulated due to an Ottawa city park close by," Duncan explained. He noted that Shields Creek is a cold-water system hosting a variety of fish including Brown Trout.

SNC staff members are also working with Greely Scouts and Cubs to build birdhouses and place them along the stream, enhancing wildlife viewing opportunities. Meanwhile, wood duck nesting boxes and more tree plantings are planned along Findlay Creek in Ottawa.

So far this year, three garbage cleanups have been conducted, one tree-planting day, one invasive species removal day, and four streams have been monitored for general health and quality of habitat.

"This is a great program. So far this year, we've had more than 100 people volunteer to help with assorted projects. Not only is the experience rewarding, it can also be a lot of fun and educational as well, particularly for children."

FOR MORE INFORMATION: Philip Duncan, 877-984-2948, ext. 292.