SNC EVENING COUNTER SERVICE TO RETURN NEXT MAY
---
Submitted by N Machado on Mon, 17/11/2014 - 8:42am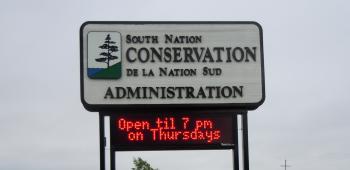 South Nation Conservation offices in Finch have returned to the winter schedule, meaning the daily hours of operation are 8 a.m.-4 p.m. Monday through Friday.

Beginning last May and ending earlier in November, as an additional service to residents of the watershed, the offices remained open Thursday evenings until 7 p.m. The extended opening will return again beginning next Victoria Day.

During the late spring, summer and early fall, there's a greater demand for permits and approvals handled by SNC staff. The late evening shift was offered to give those who needed it an extra opportunity to get into the office.

Area residents also used the evening opening to pick up information on SNC programs and perhaps book events in the SNC meeting rooms.

Most SNC services can also be activated by phone and email and, in some cases such as tree planting, SNC staff make site visits.

"The late initiative was part of a greater push to make our services available to clients in ways that are most convenient to them," said Linda Hutchinson, SNC Director of Organization and Effectiveness, adding that extended Thursday hours was a successful experiment: "We look forward to repeating it next year."

Hutchinson said passersby shouldn't be surprised to still see the lights on and cars in the lot on Thursdays and other evenings due to the great demand for use of the three conference rooms available free of charge to community groups.

Fully equipped and featuring state-of-the-art technology, the comfortable rooms were installed in what was the gymnasium of a former elementary school converted to SNC use about five years ago.

"Demand for the conference rooms increases at this time of year," Hutchinson observed. "Community groups should get their requests in early." To book space, call 877-984-2948 or contact info@nation.on.ca.

FOR MORE INFORMATION: Carl Bickerdike, SNC, 877-984-2948.