Parmalat donates $5,000 to Clean Water Program in long standing partnership with South Nation Conservation
---
Submitted by N Machado on Thu, 20/11/2014 - 3:01pm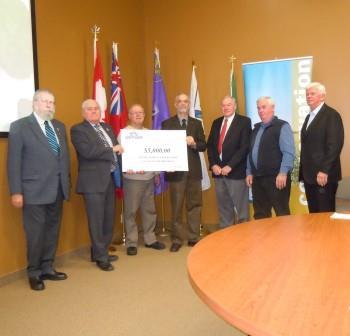 Winchester's Parmalat Canada continues to be an important corporate sponsor of the South Nation Conservation (SNC) Clean Water Program (CWP).

Stephen Wilson, director of plant operations in Winchester, presented the latest donation, at the November 20th SNC Board of Directors meeting.

Including the 2014 contribution, Parmalat has donated over $295,000 to the CWP and supported 110 Clean Water projects over the past 16 years. Funding allocates grants to landowners for water quality improvement projects.

"The total value of these projects including landowner contributions is over 1.3 million dollars," says Katherine Watson, SNC Water Resources Specialist.

The Winchester milk processor has also made several contributions to the phosphorus trading program, to reduce the phosphorus load in the South Nation River and its tributaries. It all started in 1998-2000, when Parmalat Canada first contributed $150,000 to the CWP for implementation of best management practices and to improve water quality.

To date, Parmalat has contributed to the removal of over 22,000 kg of phosphorus from local waterways, greatly improving water quality in the watershed.

Part of Parmalat Canada's approach is to invest in the natural environment, while being committed to the health and wellness of Canadians through its high-quality food products.

"SNC is fortunate to have the support from a donor such as Parmalat. Clean Water projects will continue to have positive environmental impacts for many years to come," mentions Watson.

Since 1993, the CWP provides grants to qualified landowners for a total of thirteen different projects such as controlled tile drainage structures, stream bank erosion controls, fencing along waterways and buffer strips.

Applications for funding under the 2015 CWP are now being accepted by SNC. Property owners are encouraged to submit applications early, for review by the Clean Water Committee.

FOR MORE INFORMATION: Katherine Watson, 1-877-984-2948 ext. 298.