Lauzon Announces Recreational Fisheries Conservation Funding for South Nation Conservation
---
Submitted by N Machado on Fri, 07/11/2014 - 4:09pm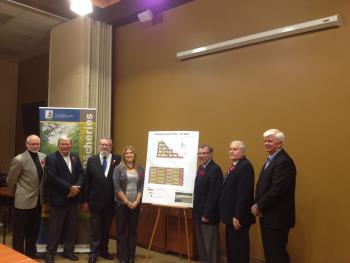 News release posted on behalf of the Office of Guy Lauzon, Member of Parliament
FINCH - Member of Parliament Guy Lauzon, on behalf of the Honourable Gail Shea, Minister of Fisheries and Oceans, highlighted today the Government of Canada's investment in two South Nation Conservation projects. Through the second and third round funding streams of the Recreational Fisheries Conservation Partnerships Program (RFCPP), the SNC will receive up to $50,000 to support the conservation of fish habitat in their watershed.

As part of the National Conservation Plan, the RFCPP was created to restore Canada's waterways and to ensure sustainability and ongoing productivity of our recreational fisheries. Given its success in ensuring a more coordinated approach to conservation efforts across the country, and high demand, the Government of Canada increased the investment in the Economic Action Plan 2014 to a total of $25 million.

South Nation Conservation will receive $37,266 for improving warmwater top predator habitat on the Moose Creek by installing a crib wall with native plants to help stabilize the stream bank and mitigate erosion.

The Conservation Authority will also receive $12,400 in funding for the Parlow Creek restoration project to restore stream flow and improve fish spawning habitat in the Iroquois Area.

More information on both projects can be found on the backgrounder fact sheets provided by the recipients.

Since 2006, the Government of Canada has taken important steps to conserve and restore our country's natural environment and connect Canadians to our rich natural heritage. The window to apply for funding under Round IV is now open and applications will be accepted until December 12th, 2014. Details about the program can be found on the Program's Web site (www.dfo-mpo.gc.ca/pnw-ppe/rfcpp-ppcpr/index-eng.html) where you can also sign up for updates.
Quick Facts
Since the launch of the program, over $11 million has already been invested in more than 200 projects across Canada.
Under the first round, the program awarded $5.9 million to 94 projects undertaken between 2013 and 2015.
Under the second round, the program committed up to $5.5 million to 128 projects undertaken between 2014 and 2015.
Under the third round of the RFCPP, up to $6.8M was committed for over 80 projects to be undertaken nationally between 2014 and 2016.
The fourth round of funding applications is now open until December 12, 2014.
Quotes

"The Recreational Fisheries Conservations Partnerships Program allows our Government to support an important economic sector while also ensuring sustainable fisheries. I would like to congratulate the proponents who applied under the first rounds of this program. Our Government is proud to support their work that will benefit Canadian communities for years to come. I encourage all interested groups to submit an application under the new round."

The Honourable Gail Shea, Minister of Fisheries and Oceans

"Our government has developed an excellent working relationship with the staff and Board of Directors at South Nation Conservation over the past 8 years. This funding builds on our success by encouraging conservation and providing more support for recreational fishing opportunities for generations to come. "

Guy Lauzon, Member of Parliament for Stormont-Dundas-South Glengarry

"South Nation Conservation is excited to be partnering with the Government on projects that help to protect our local fish populations. These projects not only help improve fish habitat, they also provide learning opportunities for landowners on using natural alternatives to stabilize eroding stream banks."

Bill Smirle, Chairman, South Nation Conservation

-30-

Contacts

Eric Duncan Naomi Langlois-Anderson
Office of Guy Lauzon Senior Fish and Wildlife Technician, SNC
613-992-2521 613-984-2948 ext. 250