PARTNERSHIP BETWEEN SNC AND OPG PROVIDES GREATER EXPANSION OF CRITICAL WILDLIFE HABITAT
---
Submitted by N Machado on Fri, 24/10/2014 - 3:16pm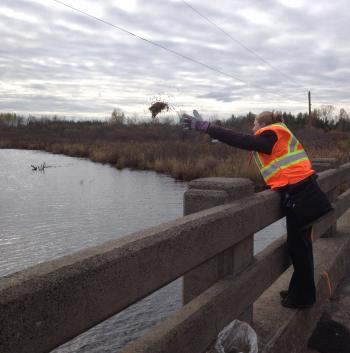 A three-year partnership with Ontario Power Generation (OPG) will allow South Nation Conservation (SNC) to expand programs that restore and create habitat for plants and animals in woodlands, grasslands and wetlands.

"SNC is pleased to be working with OPG, to support conservation initiatives in the communities in which we operate" said Karen Paquette, SNC Project Lead.

Over the next three years, some of the initiatives in the woodland component of the partnership include expanding SNC's Woodlot Advisory Services across the South Nation jurisdiction and planting 100,000 trees.

More woodlot site visits means more opportunities to provide valuable information for landowners on various topics like biodiversity, interior forest value, tree planting, and species at risk as well as invasive species.

Through OPG's support, and by working with private landowners, over 150 acres of grassland habitat will be restored, creating important habitat for species such as the Eastern Meadowlark, Loggerhead Shrike and Bobolink, as well as pollinators.

The three-year partnership will also allow SNC to enhance wetland habitat by establishing riparian zones, planting wetland plant species, and increasing spawning opportunities for fish.

Increased monitoring of wetland amphibians and reptiles will complement the creation of turtle nesting sites for the eight native turtle species, seven of which are at risk in Ontario.

"Another interesting strategy includes the installation of wood duck nest boxes that will make wetlands more welcoming for Wood Ducks and Wild Rice will be sown throughout the watershed, to increase cultural values and food sources for wildlife" Paquette explained.

Community outreach and education are crucial components of the partnership – in spreading the message for a healthy watershed. Youth presentations that include curriculum-linked hands on lessons about woodlands, grasslands and wetlands will help connect youth to the habitats found in their backyard.

Watershed residents are encouraged to check SNC's website at www.nation.on.ca for ways to get involved in this unique partnership as well as potential volunteer opportunities in their community.

Photo Caption: Lindsay Parks, Associate Environmental Advisor (OPG) sowing Wild Rice at Hoasic Creek.

FOR MORE INFORMATION: Karen Paquette, SNC Project Lead

877-984-2948, ext. 286.