RE-DESIGNED RAISIN-SOUTH NATION SOURCE PROTECTION WEBSITE LAUNCHES THIS WEEK
---
Submitted by N Machado on Wed, 22/10/2014 - 4:51pm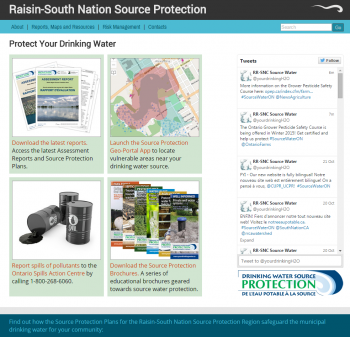 It's live! The Raisin-South Nation Source Protection website has been re-designed and re-launched in both official languages this week. The website is user-friendly and contains helpful links for Municipalities, property owners, and businesses that live and work in the drinking water protection areas.

Are you interested in learning more about municipal drinking water? Visit www.yourdrinkingwater.ca to find our interactive mapping tool, the Source Protection App, technical reports, the most up-to-date Source Protection Plan, and information on our Risk Management Office.

The homepage also provides a link to communities within the Raisin-South Nation Source Protection Region. Each community link redirects to specific maps, policies, and information on activities that can impact your drinking water.

Don't forget to stay connected and follow us on Twitter @yourdrinkingh2o to get our latest updates.

FOR MORE INFORMATION: Alison McDonald, Lead, Source Protection

877-984-2948, ext. 311.