Free ice fishing this Family Day weekend
---
Submitted by Events on Thu, 13/02/2014 - 9:17am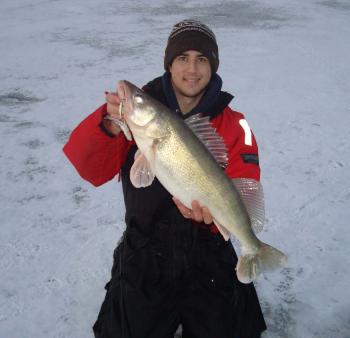 SNC is encouraging families to enjoy the outdoors this weekend. Ontario residents can fish without purchasing a licence February 15-17, 2014.

Share your catch!
Do you have any fishing photos you want to show off? Upload them to our Facebook and Twitter pages.

Families can enjoy the Crysler Winter Carnival fishing tournament at noon on Saturday, February 15. The friendly tournament takes place on the dock in Crysler, on the South Nation River, off of Second Street from County Road 12.

Keep a safe distance from water control structures, both up and down stream, as ice thickness can vary. Check local ice conditions before heading out and bring appropriate clothing and equipment for your safety and comfort. Many anglers wear floatation suits and carry a set of ice picks and a rope.

When you're done for the day, a best-management practice is to dump bait buckets on the ice, not down the hole. This reduces the chance of introducing invasive species into the River. Please pick up after yourself and do not leave any garbage on the ice. If practicing catch and release, fish should be released back to the water as soon as possible. We are reminding anglers to follow rules in the 2014 Fishing Regulations Summary.