Two Creeks Conservation Area Getting Improved Drainage, Habitat
---
Submitted by N Machado on Mon, 09/11/2015 - 6:33pm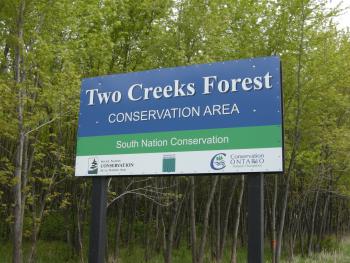 Trails have been closed at South Nation Conservation's (SNC) Two Creeks Conservation Area on Highway 2 west of Morrisburg while drainage is being improved and access upgraded for recreational users.

Flooding of the trails is an annual problem. Not only will the work alleviate the problem, it'll improve fish and wildlife habitat.

"The situation is a temporary one," said Naomi Langlois-Anderson, SNC Senior Fish and Wildlife Technician, advising that 130 trees being removed as part of the project will be replaced with 350 native seedlings and shrubs.

Replacement species will include pussy willow, nannyberry, spicebush, bur oak and shagbark hickory. Student and Scout volunteers will help with the replanting.

Part of the project involves stream restoration, helping to upgrade an important fish migration area, Langlois-Anderson noted.

Two Creeks is one of several conservation areas maintained and regularly enhanced by SNC across its 4,300 square-km jurisdiction for public recreation purposes. In many cases, sites have been donated or purchased at reasonable cost with the help of grants and other contributions.

Two Creeks is 400 acres of former agricultural land acquired from Domtar Inc., formerly of Cornwall. Prior to SNC becoming involved, a local community group had persuaded Domtar to allow trails on the property for walking and snowshoeing.

SNC staff recalled that during planting, pike were observed in the flooded fields in springtime, spawning in grasses adjacent to overflowing streams.

Langlois-Anderson reminded area residents not to think of SNC recreational properties solely for summer use.

"Many of our sites such as Two Creeks are open and groomed for winter activities. We remind users to respect their surroundings and stick to the designated trails."

FOR MORE INFORMATION: Naomi Langlois-Anderson, 877-984-2948, ext. 250.