Living locally in the rural countryside
---
Submitted by Events on Fri, 24/01/2014 - 9:44am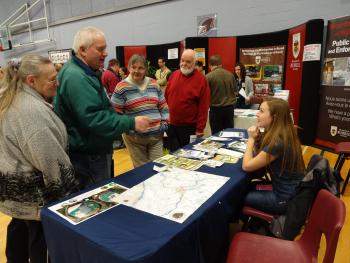 SNC staff attended the Russell Horticultural Society's Living Locally Fair, on January 18, 2014.

The annual event, held at St. Thomas Aquinas Catholic High School, offers residents an opportunity to sample, buy, and take in spectacular spoils from the Village of Russell and surrounding area. About 130 exhibitors, including local artists, authors, craft and clothing vendors, food producers, and community organizations, lined the gym with delectable, homegrown, and homemade items and information.

This volunteer-run, free event began in 2009 and every year, SNC staffs a booth to share information about the watershed with the agricultural community. Local food, farms, and access to nature keeps rural communities healthy and vital.

SNC owns and maintains J. Henry Tweed Conservation Area on Forced Road, off Craig Street in Russell. We were pleased to hear so much positive feedback from residents who enjoy these 16 acres of green space, trails, and country clean air, nestled in the Village. The park links with the New York Central Recreational Trail.