SNC Presents "Our Watershed, Our Heritage" to SD&G County Library
---
Submitted by Events on Mon, 04/11/2013 - 2:19pm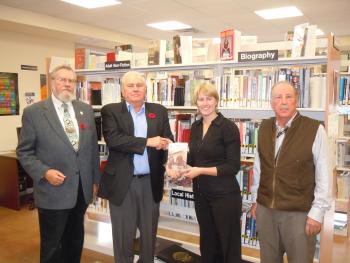 South Nation Conservation has donated copies of its book, "Our Watershed, Our Heritage" to
the Stormont, Dundas and Glengarry County Library, in recognition of the support of library staff
in researching information for the book.

Murray Inch, a resident of South Mountain, was assisted by staff at the South Mountain,
Chesterville, Winchester and Morewood branches both in researching his own contributions to
the book and in discovering other historical accounts of the watershed. The 136-page tome was
produced by South Nation Conservation to celebrate its 65th anniversary.

"This book brings to life the history of the river and its inhabitants," Chair Bill Smirle wrote in a
message at the beginning of the publication. "Please take a moment to reflect on these stories
as we continue to work together to enhance our quality of life and protect our natural resources."

South Nation Conservation streamlined its name several years ago and was formed in 1947
after the provincial government passed enabling legislation the previous year. Its locally
appointed directors and staff tend to a 4,200 square-km jurisdiction extending from the St.
Lawrence River near Brockville to the Ottawa River at Plantagenet.

The SD&G County Library was established in 1971, and provides library service to all residents
of Stormont, Dundas and Glengarry. The Library's mission is to be actively engaged and make
a significant contribution to the social and economic success of the community by providing
free, convenient and equitable access to information for all residents as well as programs and
services that support creativity, imagination, innovation and entrepreneurism.

An official presentation took place Thursday, October 31 at 3pm at the South Mountain Branch
of the SD&G County Library.