SNC Geocaching Collaboration Brings Mutual Benefits
---
Submitted by N Machado on Mon, 23/11/2015 - 12:31pm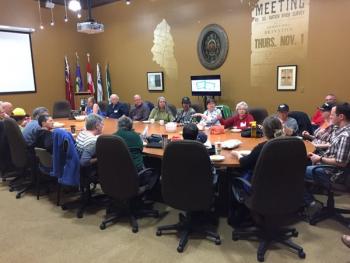 South Nation Conservation's (SNC) partnership with the regional geocaching community continues to grow, with more than 1,600 geocaches now hidden throughout the 4,300 square-km jurisdiction.

"The relationship has been beneficial for both parties," said long-time geocacher Ian Mitchell, Chair of SNC's Communications Committee.

"Geocachers have been welcomed to a large territory and gained free meeting space, while SNC has benefited from positive public relations and greater appreciation for the natural resources in the area."

SNC hosts monthly meetings for Geocachers of Eastern Ontario at its Finch office, with a large attendance. Special events are also held in SNC conference rooms, including a public viewing of the Geocaching International Film Festival Nov. 6, with some videos featuring "extreme geocaching" adventures.

Coming up Nov. 27 is guest speaker Christopher Hall from North Carolina – known to the geocaching community as Ranger Fox – who will be presenting a workshop on "Whereigo" adventure creations. A geocacher for 10 years, Hall has found more than 63,700 caches, ranking him 13th in the world.

For the uninitiated, geocaching is a networked technology-based scavenger hunt that occurs around the world. Hidden caches are rated according to the terrain and difficulty to locate.

SNC became involved about five years ago, Mitchell noted. In conjunction with area geocachers, the authority has organized several "Cache-in, Trash-out" cleanups and offers a Watershed GeoPassport which guides participants through a series of 20 caches hidden across the jurisdiction. Hundreds of residents and visitors take part every year.

"The passport introduces users to locations of interest and to the work done by SNC, including bringing them through the Conservation Areas," said John Mesman, SNC Communications Specialist.

Early in 2016, a new GeoPassport will be launched, noted Mesman. It will have a heritage theme and will guide users through various sites where they'll gain an education on regional history. Unlike previous tours, this passport includes a hard-copy historical guidebook, which is being produced thanks to support from the Great Lakes Guardian Community Fund.

Those who successfully complete the tour will be awarded a collectable SNC Geocoin… another way the authority promotes geocaching in the region.

FOR MORE INFORMATION: John Mesman, 877-984-2948, ext. 302. jmesman@nation.on.ca.