SNC Celebrates New Forested Land Acquisition
---
Submitted by N Machado on Mon, 06/06/2016 - 11:22am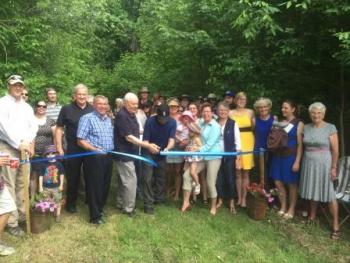 Fifty six acres of forested land bought as a gift on Christmas Eve, 1973, has become the latest parcel acquired by South Nation Conservation (SNC) to be preserved for posterity.

The Blom Property in the Township of North Dundas was officially welcomed into the fold of SNC public lands during a ceremony at the site that took place Saturday, June 4. The event included a few words from the Blom family, a ribbon cutting, tour of the property, refreshments and cake.

"It's John Blom's 84th birthday and we couldn't pass up the opportunity to express best wishes," said Jim Hendry SNC Team Lead, Property.

Blom bought the property at the corner of County Road 1 and Van Camp Road as a special present for his wife. Since then, the family has enjoyed it recreationally, including for picnics, fishing and hiking. A sugar shack on the land was used until the 1980s, firewood was cut annually, and snowmobilers have ridden the trail during the winter.

"It was obtained as part of the SNC Land Securement Strategy," Hendry explained. "It's an ecologically significant property which will benefit from active management and protection of its natural history features."

Hendry described the treed site as upland hardwood with remnant old growth forest characteristics; he noted that some trees on the site may be upwards of 300 years old.

Selling or donating forested land to SNC is becoming a more popular option among residents in the jurisdiction, he added.

The Blom Property and similar sites are open to the public. "Family members appreciate that their favorite pieces of land will be maintained in their natural state, and improved upon. We always recognize and value their contribution in creating a lasting legacy."

FOR MORE INFORMATION: Jim Hendry, 877-984-2948, ext. 235. jhendry@nation.on.ca.