Great time at SNC Family Fun Derby 2015!
---
Submitted by N Machado on Tue, 23/06/2015 - 10:06am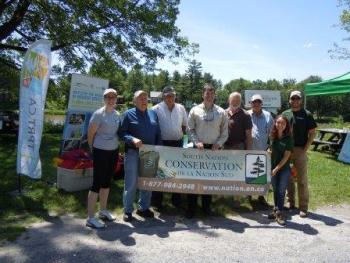 South Nation Conservation (SNC) was pleased to host a Family Fun Derby on June 20 at Jessup's Falls Conservation Area, in Plantagenet. We want to extent a big thank you to all partners and participants that attended the event. This free fun-filled day of shoreline fishing, games and prizes promoted angling opportunities in the area and encourages families to get outdoors and go fishing. Prescott-Russell Tourism was on location for the event, as well as the Ottawa Fly Fishing Society who did a fly fishing demonstration for participants. A total of 29 fish and 10 different species were measured and weighed. For more information, contact Natasha Machado, Communications Specialist at 1-877-984-2948, ext. 313 or nmachado@nation.on.ca.

From left to right:

Jackie Edwards, SNC GIS Technician; Bill Smirle, past Chair, SNC Board of Directors; Fernand Dicaire, Mayor, Alfred and Plantagenet and SNC Board of Directors; M.P. Pierre Lemieux, Glengarry-Prescott-Russell; Dennis O'Grady, SNC General Manager/Secretary-Treasurer: Bruce Clarke, Ottawa Flyfishers Society: Natasha Machado, SNC Communications Specialist, and Joel Martineau, SNC Forestry Technician.