Come on out for a day of family fun in Berwick June 28!
---
Submitted by N Machado on Tue, 23/06/2015 - 10:20am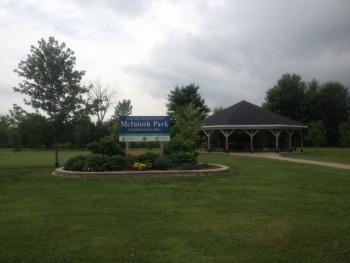 South Nation Conservation (SNC) is inviting families to come to Berwick on June 28 for a fun filled day of family fun, starting with a hike and geocaching tutorial at Warwick Forest Conservation Area at 10 a.m., followed by a free lunch with music and children's games at McIntosh Park Conservation Area from 12 p.m. – 3 p.m.

Warwick Forest and McIntosh Park Conservation Areas are located in Berwick, North Stormont. Warwick Forest located on Berwick Rd, approximately 6 km east of Berwick, and McIntosh Park is located at 6 Cockburn Rd, Berwick.

The 6 km trail in Warwick Forest gives us a great opportunity to explore the serene natural surroundings and to learn about geocaching. This hike is part of Conservation Ontario Healthy Hikes Challenge Contest from May 1 to October 31, 2015.

Conservation Authorities and Healthy Hikes partners host events throughout the campaign. Participants that come out on Sunday can receive 200 bonus points towards their Healthy Hikes goal. Our staff will be on hand to provide an event code for participants.

For more information on the Healthy Hike challenge, please visit www.healthyhikes.ca.

Following the Healthy Hike, everyone is invited to drive to McIntosh Park for a complimentary lunch, live music and children's games.

"The park is a natural gathering spot," said SNC's Saxon Ireland, Property and Approvals Assistant. Families can enjoy a picnic, a stroll along the walking trail, and the scenic gazebo… a monument to the pioneers and founding families of the area."

Promoted by retired Berwick farmer Floyd Dingwall, SNC past Chair and committee member, the park began to take shape after the MacLeod Family donated about four acres of land just south of now the Township of North Stormont.

The McIntosh Park Committee, composed of community volunteers and SNC staff, has been instrumental in assisting with care and maintenance of the park.

"McIntosh Park is a great example of how a community can come together and create something wonderful and lasting," Ireland observed.

FOR MORE INFORMATION: Saxon Ireland, SNC, 877-984-2948, ext. 296.