Enhancing fish habitat at Port of Johnstown
---
Submitted by Events on Tue, 14/01/2014 - 9:38am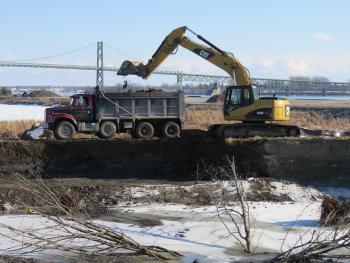 South Nation Conservation is working with the Port of Johnstown to complete a fish habitat creation project along the St. Lawrence River. Work is underway to expand a wetland in Johnstown Bay into a larger, more beneficial area for fish.

"The Port is drawing on our expertise from similar fish habitat projects to ensure the project is successful and cost effective," says Michelle Cavanagh, SNC Fish and Wildlife Resource Technician.

The 1 acre wetland will include a variety of shoreline structures to create diverse habitat. Two deep pools will support large, game fish species and shallow, weedy areas are suited for small fish.

"After months of planning, we're excited to begin construction" says Cavanagh, adding SNC will monitor the wetland while work is being carried out and every spring and fall for the next three years to see which fish species are using the new habitat.

This spring, SNC is creating a buffer of trees, shrubs, and wildflowers around the wetland that extends along the warf. This will improve water quality and prevent erosion and surface runoff. Adding aquatic plants in the wetlands, including water lilies, pickerel weed, and wild rice, will oxygenate the water which improves habitat.

Installation of root wads and log clusters will also provide additional areas of cover and spawning habitat. These woody structures will help keep the vegetation from clogging up the wetland.

SNC, in partnership with the Mohawk Council of Akwesasne, developed a Fish Habitat Compensation Plan to satisfy the federal Fisheries Act requirements for the construction of the Port's new wharf. This is the first of two compensation projects that SNC will complete under the Plan.

Excavation will begin this month with the entire project wrapping up in May.

FOR MORE INFORMATION – Michelle Cavanagh, 877-984-2948, ext. 310 or mcavanagh@nation.on.ca.