DROP A LINE AT 6th SNC YOUTH FISHING CAMP
---
Submitted by N Machado on Mon, 23/06/2014 - 2:10pm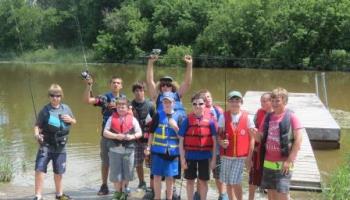 Scenic Jessup's Falls Conservation Area west of Plantagenet will be the site of South Nation Conservation's 6th annual free Youth Fishing Camp July 8-10.

"Jessup's Falls along the South Nation River has the look and feel of a classic summer fishing hole. It's a great place for kids to laze away some summer days," said SNC Fisheries Technician Karen Paquette.

But 10 participants aged 10-15 will have to be on their toes too. Using provided gear, they'll learn the rules, where to drop a line, selecting equipment, baiting – including fly tying - and casting.

Over the three-day youth camp, Ministry of Natural Resources personnel will advise about regulations, licenses, permits, fish sanctuaries and seasons for various species.

"Let's call it a working holiday," said Paquette who can be reached at 877-984-2948, ext. 286 or at kpaquette@nation.on.ca for information and registration. "To use a little fish camp humour, just drop me a line."

Registrations for the catch-and-release camp will be accepted on a first-come, first-served basis. A barbecue lunch will be provided on all three days; youth taking part must bring life jackets. Parents should drop off children at 9 a.m. and pick them up at 3 p.m.

The fishing camp is held in conjunction with Ontario Family Fishing Week July 5-13 when the sport can be enjoyed on a catch-and-release basis without a license.

"There are no prerequisites to participate in the camp," Paquette said. "But young anglers need to bring their respect and enthusiasm for nature."

One of SNC's primary responsibilities is to provide youth with hands-on tools allowing them to fish responsibly. The process is repeated in the fall with young hunters.

"We hope to foster a lifelong appreciation of the local environment that can be passed down for generations. As environmentalists, we advocate for responsible, sustainable fishing and hunting."

FOR MORE INFORMATION – Karen Paquette, 877-984-2948, ext. 286.