FAMILIES INVITED FOR OLD-TIME FOOD AND FUN AT MCINTOSH PARK
---
Submitted by N Machado on Wed, 02/07/2014 - 3:36pm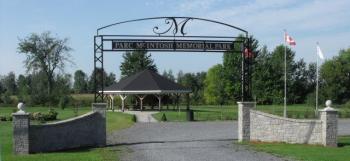 After the Canada Day fireworks and big name entertainment have faded away, residents of the South Nation Conservation watershed might be looking for something to do that's more soothing, more rural and traditional.

Then consider McIntosh Park Family Day and Strawberry Social where all are invited to laze away the afternoon from 1-3 p.m., July 6. Strawberry shortcake and beverages will be offered along with music and games for children.

The park is located at the corner of County Road 12 and Cockburn Street in Berwick and includes a free public parking lot.

SNC staff will be on hand to answer questions about McIntosh Memorial Park Conservation Area and about other aspects of the environmental rehabilitation and enhancement work conducted by the authority across the 4,200 square-km watershed.

"The park is a natural gathering spot," said SNC's Saxon Ireland. Families can enjoy a picnic, a stroll along the walking trail, and the scenic gazebo… a monument to the pioneers and founding families of the area."

Promoted by retired Berwick farmer Floyd Dingwall, a long-time SNC Board and committee member, the park began to take shape after the MacLeod Family donated about four acres of land just south of a former school then serving as SNC offices. The building is now municipal offices for the Township of North Stormont.

Formed in 2006, the McIntosh Park Committee is composed of community volunteers and SNC staff, and has been instrumental in assisting with care and maintenance of the park.

Early on, area residents greened the park by purchasing more than 30 caliper-sized trees to commemorate loved ones; flowerbeds have been added, along with flagpoles and other accessories.

The municipality also plays an active role with Mary Fife, wife of Mayor Dennis Fife, coordinating an annual fundraising golf tournament for the park and for the Berwick Recreation Association. The 7th annual tournament was held June 22 at Cedar Glen Golf Club near Williamsburg.

"McIntosh Park is a great example of how a community can come together and create something wonderful and lasting," Ireland observed.

"An abandoned section of hay field has become a community gathering place and landmark to be proud of."

FOR MORE INFORMATION: Saxon Ireland, SNC, 877-984-2948, ext. 296.