Conservation Ontario Supports Unique Proposed Invasive Species Legislation
---
Submitted by Events on Tue, 04/03/2014 - 10:39am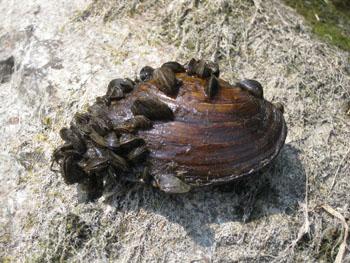 March 3, 2014 – Ontario's 36 Conservation Authorities - who deliver a wide variety of conservation programs in local watersheds - commend the Ontario Ministry of Natural Resources (MNR) for its work in developing Canada's first standalone proposed Invasive Species Act which is designed to address the urgent and growing problem of invasive species in Ontario.
The proposed Invasive Species Act would support the prevention, early detection, rapid response, and eradication of invasive species.
Invasive species such as emerald ash borer, zebra mussels, and Asian carp pose a serious threat to the health of Ontario's natural biodiversity and economy. "The proposed Invasive Species Act is an important step in improving Ontario's response to invasive species," said Kim Gavine, General Manager of Conservation Ontario. Conservation Ontario represents Conservation Authorities.
Through their watershed stewardship programs, many Conservation Authorities across the province battle both aquatic and terrestrial invasive species that threaten water quality, choke out important native species, and impact native sport and commercial fisheries, beaches, forests, wetlands, and local recreation and tourism.
"A risk-based approach as being suggested in the proposed Act is a sound and useful approach that allows for prioritization of actions to maximize the use of limited resources", Gavine said. "It should be very successful combined with a multi-pronged approach that includes education and outreach, monitoring, and management. Implementing this approach will be even more successful with a broad suite of partners, especially at the local level."
Because we connect on a global basis today more than ever, it's much easier for new invasive species to be introduced and spread. As well, the growing impacts of climate change are also affecting the health and resiliency of Ontario's water and land biodiversity, making the local environment more susceptible to the establishment and spread of aquatic, insect, plant and other invasive species.
Conservation Authorities currently address invasive species through a wide variety of means:
watershed plans
habitat restoration and rehabilitation
forest management, tree and shrub planting
natural heritage strategies / invasive species strategies
water quality and quantity programs
natural lands management
community outreach and education
monitoring and reporting
technical advice
Some Conservation Authorities provide website resources aimed at specific invasive species found in their watersheds and provide actions that people can take. A total of 15 Conservation Authorities are members of the Ontario Invading Species Awareness Program.

For more information on the proposed Invasive Species Act:
http://news.ontario.ca/mnr/en/2014/02/fighting-invasive-species-in-ontario.html

More information on Conservation Authorities work around Invasive species:
http://conservationontario.ca/what-we-do/watershed-stewardship/invasive-species

Find out which invasive species are in your area (Early Detection and Distribution Map of Ontario):
http://www.eddmaps.org/ontario/

Contact:
Kim Gavine, General Manager, Conservation Ontario
kgavine@conservationontario.ca 905-895-0716 ext 231

Jane Lewington, Marketing & Communications Specialist, Conservation Ontario
jlewington@conservationontario.ca 905-895-0716 ext 222
Conservation Ontario
P.O. Box 11, 120 Bayview Parkway, Newmarket ON L3Y 3L5
www.conservationontario.ca