City Stream Watch Recruits Citizen Scientists
---
Submitted by N Machado on Tue, 16/08/2016 - 9:28pm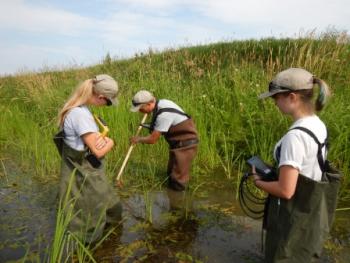 South Nation Conservation (SNC) recently completed stream sampling in the City of Ottawa through the City Stream Watch Program that recruits citizen scientists to assist in data collection to improve stream health.

SNC is part of the City Stream Watch Collaborative formed in 2014 that consists of dedicated environmental organizations, including Rideau Valley and Mississippi Conservation Authorities and other interested groups.

"The goal of the program is to collect consistent data in order to report on the health of urban and rural streams across the City of Ottawa," said Brent Harbers, SNC Science and Research Assistant.

Monitoring results then help target restoration initiatives and landowner stewardship actions to improve stream health and water quality.

In previous years, City Stream Watch restoration initiatives included tree planting, garbage pick-up and stream bank restoration.

This year's focus monitoring area was McKinnon's Creek, near Navan. Five volunteers contributed over 40 hours and assisted SNC staff in sampling four kilometers of stream.

Data collection involves walking the entire length of the stream and assessing stream health at predetermined intervals. Fish observations, wildlife, stream morphology and water chemistry are all recorded.

Among this year's monitoring highlights, approximately 16 fish species were sampled at 10 different locations along the stream.

"We encourage the integration of volunteers with all aspects of the monitoring program, from assisting with data collection to taking action with restoration projects," mentioned Harbers.

Based on this year's monitoring results, various habitat enhancement projects are planned in the upcoming months to improve stream health.

FOR MORE INFORMATION: Brent Harbers, 1-877-984-2948, ext. 298.