Certified Forest Owners deliver $5,000 to SNC advisory service
---
Submitted by Events on Mon, 03/02/2014 - 3:02pm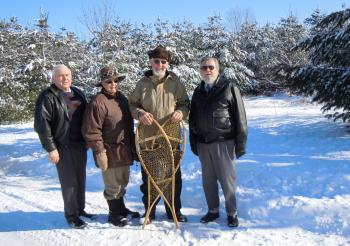 Febrary 3, 2014 – Stormont, Dundas and Glengarry Certified Forest Owners are contributing $5,000 towards expanding the Woodlot Advisory Service (WAS) across the 4,200 square-km South Nation Conservation watershed.

The announcement was made today on the property of George Velema at Avonmore. A former Domtar Cornwall executive, Velema is a long-time supporter of reforestation in the watershed.

In addition to Velema, a board member of the tri-county CFO, the event was officiated by the group's president Elaine Kennedy, and by Bill Smirle, chairman of SNC.

"The contribution from the certified forest owners is a strong show of support for the WAS, a clear indication this important group backs our efforts," said Josee Brizard, Team Lead, SNC Forest Resources.

SDG CFO is a not-for-profit organization promoting sustainable, long-term forest management practices through third party certification. Governed by the Forest Stewardship Council, certification is a voluntary market-based system guaranteeing that wood and paper products come from responsibly maintained woodlots.

The FSC objective is to ensure that forests are managed in an environmentally appropriate, socially beneficial and economically viable way.

SNC and CFO signed a Memorandum of Understanding last April to partner in forestry programs such as WAS providing assistance to property owners with a minimum of five acres of forest. Was will provide owners with a site evaluation, suggest management options, and introduce contacts and programs such as certification intended to enhance woodlot potential.

"CFO objectives are the same as SNC's," Brizard noted, adding that the authority manages 20,000 acres of forest across a large part of Eastern Ontario. SNC and its partners plant thousands of trees every year to replace ones lost and to expand the region's forest cover.

FORE MORE INFORMATION: Josee Brizard, SNC, 877-984-2948, ext. 231.