SNC elects exec, honours team members, supports Alfred, Kemptville Colleges
---
Submitted by Events on Mon, 24/03/2014 - 10:01am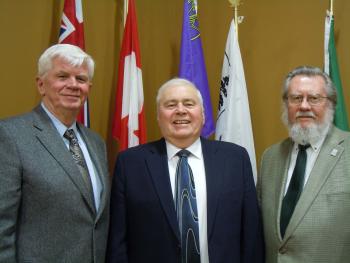 March 24, 2014 – During South Nation Conservation's annual meeting March 20, chairman Bill Smirle and vice-chair Doug Thompson were re-elected to their positions for another term. Joining them on the executive once again is past chairman Lawrence Levere.

The board spent most of the session hearing reports and business plans from staff representing various SNC departments. It was clear from presentations that 2014 will be another busy year in the 4,200 square-km South Nation jurisdiction.

Directors used the occasion to recognize the contribution of two members of the SNC team, Jean-Paul St. Pierre and Josee Brizard. Mayor of Russell Township, St. Pierre has left the board as a Prescott-Russell representative due to extra duties this year as warden of the United Counties and chairman of the Eastern Ontario Wardens' Caucus. Forest Resources Team Lead Brizard was recognized for 25 years of service.

Calling serving as a director a sometimes overwhelming learning curve, St. Pierre was praised for offering valuable insight, guidance and support since coming aboard in 2011; his place will be taken by Jean-Yves Lalonde, mayor of Alfred-Plantagenet.

Brizard began her career with SNC in 1989 as a young forester. At that time, recalled General Manager Denis O'Grady, board members weren't convinced they needed someone with her specialty. They decided to give it a try in a one-year contract and "she's still here."

Brizard is grateful to have been given the opportunity to "make a difference on the landscape" largely by overseeing planting of 2.5 million trees in the watershed. She's proud to have been part of SNC's gradual climb from a small cog in the environmental wheel to regional leader in environmental protection and enhancement.

In other business, directors passed a motion supporting Alfred and Kemptville agricultural colleges as community assets that must be preserved. The University of Guelph has announced its cutting off the institutions by 2015; several SNC board members, including Smirle, are involved in campaigns to save the schools.

FOR MORE INFORMATION: Ronda Boutz, SNC, 877-984-2948, ext. 251.
rboutz@nation.on.ca

Photo (L-R): Doug Thompson, Vice-Chair; Bill Smirle, Chair; and Lawrence Levere, Past Chair.