SNC celebrates another land donation
---
Submitted by N Machado on Mon, 27/04/2015 - 9:15am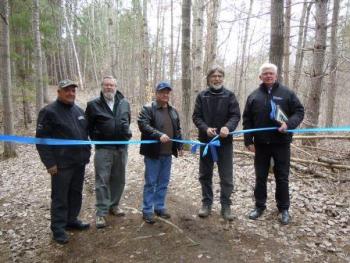 South Nation Conservation (SNC) has accepted yet another land donation from a resident of its 4,382 square km jurisdiction.

This time, it's 3.6 forested acres in La Nation Municipality owned by Maurice Chabot. A celebration of the gift was held April 24.

The ceremony included La Nation Mayor Francois St. Amour, other local politicians, SNC board members, staff, members of the public, and Maurice Chabot.

The property in question is located at 1331 Lacroix Road. Forty years ago with the help of family and friends, Mr. Chabot began by planting just one tree. Today, it is a beautiful forested property.

A ribbon cutting was held, refreshments were served and a guided tour of the property was offered, highlighting the forest cover and plans for future improvements.

Wondering how to preserve his property, Chabot met with the municipality who advised him about the SNC Land Donation Program. The authority is a member of the Ontario Land Trust Alliance and is approved to accept donations of land through the Environment Canada Ecological Gifts Program.

With clear-cutting increasing across Eastern Ontario, gifts of forested land are one way SNC can help preserve forests for the future. Every donation is appreciated, said SNC Environmental Planner Bonnie Boyd.

"Any land turned over to SNC is protected and managed, for the long-term benefit of society as a whole," Boyd said. "We accept woodlands, wetlands, grasslands, and other ecologically sensitive habitats."

SNC now manages more than 11,400 acres of land. Acquired lands help ensure a healthy environment, support outdoor public recreation, as well as wildlife.

FOR MORE INFORMATION: Bonnie Boyd, 877-984-2948, ext. 306.