SNC Spring Cleanup Event in Iroquois April 25
---
Submitted by Lisa Van De Ligt on Fri, 17/04/2015 - 2:45pm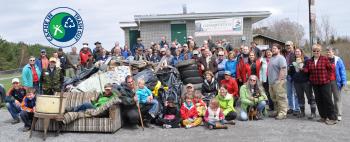 With much of the area snow cover melted away, revealing a winter's worth of garbage accumulation, it's time for the 6th annual Cache-in, Trash-Out (CITO) hosted by South Nation Conservation (SNC) and Geocachers of Eastern Ontario (GEO).

This year's rain-or-shine event will be held April 25 beginning at 9 a.m. Participants are asked to meet at Iroquois Seaway Lock and to dress according to the weather with good working clothes, footwear and gloves.

The cleanup will focus on pre-selected sites at nearby parks, trails and other public spaces. Participants will be separated into groups to tackle the various locations. Everyone involved will regroup at the starting point by 1 p.m. for a group photo, prizes and lunch; the event officially ends at 2 p.m.

Over the years, CITO has been held at conservation areas throughout South Nation's jurisdiction extending from the Ottawa River near Plantagenet, to the St. Lawrence River east of Prescott.

A surprising amount of trash and "odd relics from the woods" are amassed every year. Perhaps the most memorable item recovered was a Volkswagen Beetle.

"We expect to have another tremendous volunteer turnout from the geocaching community," said Tim Jackson who has been coordinating the event from its inception. A former SNC employee, Jackson is an award winning member of the Geocachers.

"The event has become a highlight for any geocacher based in Eastern Ontario. Despite cool, rainy weather last year, we had 120 volunteers come out."

Those interested are invited to register with Jackson prior to April 21 at tjackson@nation.on.ca.

Participants are encouraged to keep their eyes peeled for geocaches posted in the region, said GEO member Ian Mitchell, chair of SNC's Communications Committee: "Cache- In is just as much fun as Trash-Out."

For those not yet in the loop, the basic idea of geocaching is to locate containers hidden outdoors, examine the contents, and share discoveries online. The game builds a strong sense of community and support for the environment.

FOR MORE INFORMATION: Lisa Van De Ligt, SNC, 877-984-2948 ext. 249, lvandeligt@nation.on.ca.