Fish Habitat Creation Project Complete for Port of Johnstown
---
Submitted by N Machado on Tue, 26/07/2016 - 9:20am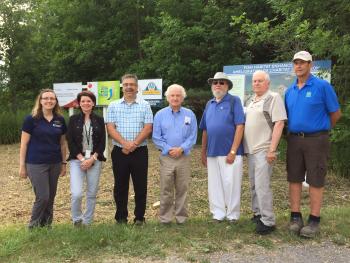 South Nation Conservation (SNC) was pleased to participate in the official project unveiling and ceremonial tree planting, together with project partners and dignitaries, for the Port of Johnstown's Wharf Expansion Project.

The Mohawk Council of Akwesasne together with SNC were environmental consultants on the project that began in 2009.

The project was funded through the Build Canada Fund Community Component (BCF-CC) which saw an equal partnership between the Township of Edwardsburgh Cardinal's Port of Johnstown and the federal and provincial governments.

As a requirement under the Fisheries Act Authorization for the construction of the new wharf, two fish habitat creation projects were constructed, in Johnstown and in Riverside Heights.

The final habitat creation project was constructed in the fall of 2014, at the corner of County Road 2 and County Road 8 in Riverside Heights. The land is owned by the St. Lawrence Parks Commission, another partner in the project.

This embayment created 22,000m2 of fish habitat and provides important wetland habitat for a variety of species including birds, mammals, turtles and species of concern.

"The channels, 10 meters wide and 1.2 meters deep with steep slopes were designed to help prevent cattail regrowth, and maximize habitat for birds and other wildlife," said Ivany, SNC Senior Fish Habitat Assessment Biologist.

Approximately 3,000 trees were planted this spring at the project site.

Fish monitoring will take place two times a year during the spring and fall. To date, 20 different species of fish were caught including: Largemouth Bass, Longnose Gar, Walleye, Yellow Perch, among others.

"SNC was proud to work alongside partners and provide environmental expertise on this project," mentioned Ivany.

FOR MORE INFORMATION: Amie Ivany, 877-984-2948, ext. 246, ABoudreau@nation.on.ca.