Conservation Area enhanced by Great Lakes funding
---
Submitted by Events on Mon, 02/12/2013 - 8:44am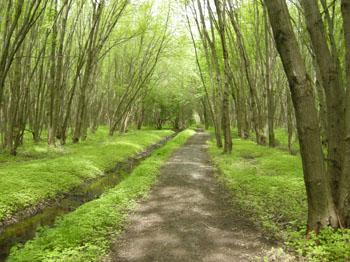 November 29, 2013

Some 25 outdoor enthusiasts gathered recently at Two Creeks Forest Conservation Area to celebrate final implementation of improvement projects provided under the Great Lakes Community Guardian Fund.

The $25,000 GLGF grant permitted upgrading part of he four km hiking trail that runs through the Morrisburg area site operated by South Nation Conservation, installation of interpretive signage, and publication of a self-guided brochure.

Both SNC chairman Bill Smirle and South Dundas Mayor Steven Byvelds – a member of the SNC board - were on hand to welcome visitors and to publicly thank the Community Guardian Fund for its generous contribution.

"Because of the funding, we were able to move ahead with improvements to Two Creeks that otherwise would have been postponed, perhaps indefinitely," Smirle observed. "The park is much more inviting and accessible thanks to the assistance."

Sponsored by the Ontario Ministry of Environment, the GLGF is intended to help communities and organizations take action on restoring their section of the Great Lakes and St. Lawrence River Basin.

Successful projects must contribute to the goals of protecting water quality, improving wetlands, and/or enhancing habitat and species.

"We met the criteria and received the maximum allowable grant," Smirle noted. "It's another clear indication that SNC is on the right track with its conservation projects."

The chairman said he was pleased to see Two Creeks added to SNC's network of natural parks, forests and trails throughout the 4,200 square-km drainage basin extending from the Ottawa River at Plantagenet to the St. Lawrence River at Prescott.

Comprising about 500 acres, Two Creeks is located along County Road 2 between Morrisburg and Iroquois. Features include two tributaries of the St. Lawrence running through it – hence the name – provincially significant wetland, and more than 300 recorded plant and animal species.

While motorized vehicles are prohibited, area residents are invited to enjoy the conservation area free of charge right through the winter. Ample parking is available at the entrance.

FOR MORE INFORMATION: Josee Brizard, SNC, 877-984-2948, ext. 231.