South Nation's Maple Education Program is just around the corner!
---
Submitted by N Machado on Mon, 02/03/2015 - 11:02am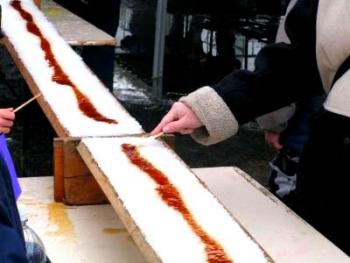 One of the sweetest educational opportunities you'll ever experience is returning to the South Nation Watershed for a 15th season. South Nation Conservation, in partnership with Sand Road Maple Farm in Moose Creek, is once again offering its popular Maple Education Program, which provides a unique, hands-on history of the production of maple syrup.

Guided by SNC interpreters, pre-booked K-12 school groups enjoy a leisurely hike through the sugar bush while learning how maple syrup makes it from the tree to your breakfast table. The bilingual program is offered March 3rd through April 3rd, and interested schools must book their visits with SNC in advance. Tours are also available for adult groups. The Sand Road log cabin remains open to all visitors even while tours are being conducted.

The two-hour tours, which follow the K-12 science curriculum, start at 9:30 a.m. or 12:30 p.m. To offset expenses, the cost per participant is $6, which includes the tour and a maple treat and must be paid in advance. Pancake meals are also available starting at $4.50 per person. The minimum number per group is 15. To help make the program more accessible, SNC offers a bussing subsidy of up to $150 per eligible school. Additionally, SNC is offering Maple Education Lesson Kits to be loaned to schools and groups who aren't able to visit the programming site.

Program participants learn all about the evolution of the sugaring process, from boiling sap in a hollowed-out log as the aboriginals did, to the huge cast iron kettles of the early settlers, to today's modern evaporators that transform sap into sweet-tasting maple syrup. And, if the weatherman cooperates, participants will see maple syrup being made.

"While there's plenty of fun to be had during an SNC/Sand Road outing, the true emphasis is on education," says program coordinator, Lisa Van De Ligt. Students learn how to identify various tree species, woodlot management, and the role forests play within watersheds.

"It's all about connecting students to our natural environment with the understanding that people are part of the environment and not separate from it," says Van De Ligt. "Lessons learned at Sand Road can last a lifetime."

FOR MORE INFORMATION: Lisa Van De Ligt, (877) 984-2948, ext. 249.