Recent Rainfall Puts End to Low Water Concerns in SNC's Jurisdiction
---
Submitted by Lisa Van De Ligt on Fri, 19/06/2015 - 9:49am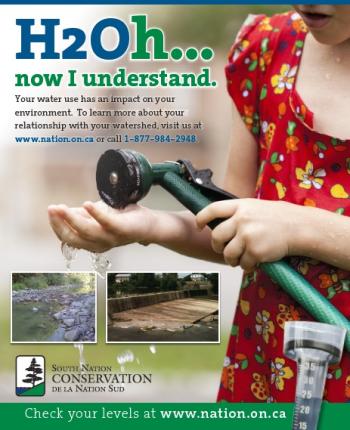 As of June 19, 2015, South Nation Conservation (SNC) has ended their Level 1 Low Water status issued on June 11, 2015 for SNC's entire jurisdiction.

From March to May, rainfall in SNC's jurisdiction was 60-70% of normal, which indicates a potential water supply problem down the road if this trend continues. However, the rainfall of over 80 mm so far in June has compensated for the lack of rainfall the past 3 months and has increased stream flows. Environment Canada's forecasted rainfall over the next week will also significantly add to this amount.

On June 17, 2015, SNC staff reviewed rainfall and streamflows at a meeting with their Water Response Team which consists of representatives from Provincial and Municipal governments, the agricultural sector and other special interest groups. The decision was made to end the Level 1 Low Water status; however, SNC and their Water Response Team continue to encourage water conservation practices, especially during the warm summer months.

SNC staff will continue to monitor precipitation and streamflows and update the appropriate agencies and public accordingly. Visit www.nation.on.ca for more information. Please do not hesitate to contact the undersigned for more information.

Please contact Golam Sharif at 1-877-984-2948 ext. 373 for more information.