A special place in need of conservation
One of the first things George and Hennie Velema noticed about the homestead they purchased in 1980 was the topography, the sense of elevation they felt compared to the surrounding farmland. The property is one of the highest points in the County, part of a ridge separating the watersheds of the South Nation and Raisin Rivers. With years of work invested in the area around their home, today it is a sanctuary for them. The Velemas' acquired the land in several parcels and over the years have undertaken extensive tree planting, while managing their Christmas Tree Farm on a nearby property. The results of their hard work are evident today, with the property resembling a forested island in a sea of open farm fields.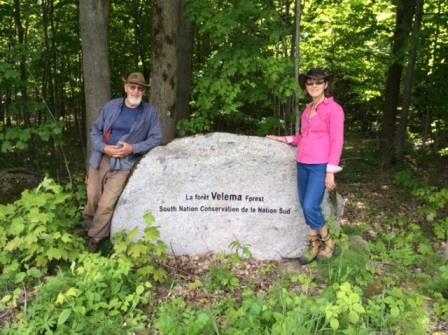 "Our goal was to secure the hard work we have invested in the property now that we are retired. We are alarmed by the recent intensification of farming practices in this area. Modern agriculture leaves little space for natural areas such as woodlots and hedgerows. We didn't want to see the land cleared for cropping so we turned to South Nation Conservation (SNC) to help secure the natural heritage of the property," says George Velema.
Why SNC?
The Velemas' have a long history with SNC, and they previously donated a 97 acre parcel for SNC's stewardship. They were happy with the process and the results. 
Working with SNC, they were able to donate another property through the federal Ecological Gifts Program. The program offers non-refundable tax credits for the donation of ecologically sensitive land. Given their goals, the program was a natural choice. George and Hennie are delighted to secure their conservation legacy with SNC.