Everyone can benefit from planting suitable tree species on their property, including idle lands, stream banks, and buffer strips. Landowners that meet the requirements outlined in the programs below may be eligible for more than one program subsidy.
Forest Ontario: 50 Million Tree Program
SNC partners with Forest Ontario to offer seedlings, planting, and site preparation/tending for a $0.20 fee per tree for conifers and $0.50 fee per tree for deciduous. We are proud to offer stock native to Eastern Ontario.
Have an open, productive planting area of at least one hectare (2.5 acres) in size;
Ensure land is open or mostly open and has not been a woodland as defined by the Forestry Act since December 31, 1989;
Minimum order is 1500 seedlings for a windbreak and 2000 seedlings for idle land; 
SNC staff visit each site, prepare a planting plan, hand plant the seedlings and apply 1 application of herbicide (as required);
Bilingual technicians available; 
Sign a 15-year management agreement to maintain the trees. 
SNC is currently taking orders for the 2020 tree planting season.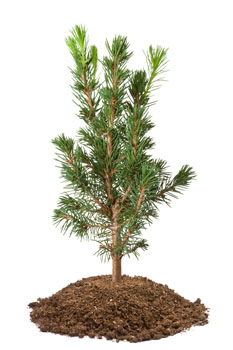 Green Acres - Ottawa's Rural Reforestation Program
The City of Ottawa offers both an over the counter and full service program to landowners who reside within the city. Green Acres provides incentive grants for over-the-counter orders of 500 seedlings or more in the amount of of $0.20 per seedling. Through the Full-Service Program which requires 1000 trees or more, Green Acres will provide 50% of the planting costs in year 1 and will cover 75% of subsequent tending costs in future years. 
Learn more about the Green Acres program here.
Additional funding available for plantings adjacent to watercourses, through the Ottawa Rural Clean Water Grants Program.
Biodiversity Over the Counter Tree Planting Program
If you are not eligible for the programs above, SNC also provides over-the counter tree sales. 
Minimum order 100 seedlings; 
Trees must be ordered in multiples of 50; 
SNC staff provide technical tree planting advice, order the trees and arrange for shipment to the local cold storage facility within the SNC watershed; 
Landowners are responsible for picking up their trees from the designated location and planting them; 
No management agreement, no survival guarantees; 
Orders currently being accepted until February 1st for spring 2020. 
 We are currently taking orders for spring 2020, order your trees today! Contact Cheyene Brunet for more information.