SNC Encourages Water Conservation
---
Submitted by Lisa Van De Ligt on Thu, 11/06/2015 - 12:19pm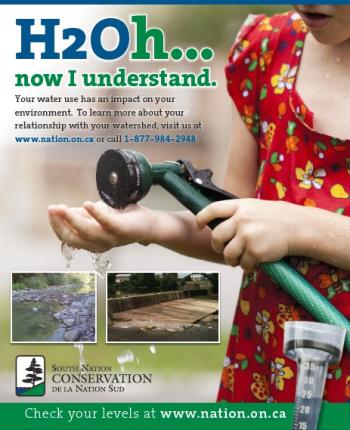 With below-average precipitation the last few months, South Nation Conservation (SNC) is encouraging residents of its jurisdiction to reduce their water consumption.
SNC issued a Level 1 Low Water Condition on June 11, 2015, which means there is the potential for a water supply problem. "Despite the recent rain, the total precipitation is still between 60-70% of the historical values for March to May. If the lack of precipitation continues, there is the potential for a serious water supply problem," says SNC's Golam Sharif, Water Resources Analyst.
SNC asks residents, businesses and industries throughout their jurisdiction to reduce their water consumption by 10% by limiting their non-essential water uses and conserving when possible using these simple tips:
Shorten length of showers
Check taps and pipes for leaks

Adjust the settings on your washing machine to the proper load size

If you must water your lawn, do so in the morning or evening to reduce evaporation

Avoid washing your car or do so with a bucket of water instead of running the hose
SNC's Water Response Team will be meeting on June 17, 2015 to discuss the severity of the low water situation. This Team is formed of representatives from: Municipalities, Ministry of the Environment and Climate Change, Ministry of Natural Resources and Forestry, agricultural sector, and special interest groups.

There are two other Conditions that can be issued if the below-average precipitation continues or if streamflows are reduced: a Level 2 Condition means there is the potential for a serious water supply problem and a Level 3 condition indicates the failure of the water supply to meet demand. These Conditions are standard throughout the Province under the Ministry of Natural Resources and Forestry's Ontario Low Water Response Program.

SNC will continue to monitor precipitation and streamflows and will provide updates as required. Landowners, businesses, and industries can help SNC monitor the Low Water Condition by reporting any unusual water-related problems.

The South Nation River begins at its headwater streams near Brockville and gathers water from as far away as Maxville to the east, and the City of Ottawa to the west, before it empties into the Ottawa River near Plantagenet.

Please contact SNC at 1-877-984-2948 or visit our website at www.nation.on.ca for more information. Additional information on the Ontario Low Water Response program can be found at: http://www.ontario.ca/environment-and-energy/low-water-response-program.