South Nation sampling confirms healthy fishery
---
Submitted by Lisa Van De Ligt on Tue, 06/09/2016 - 2:16pm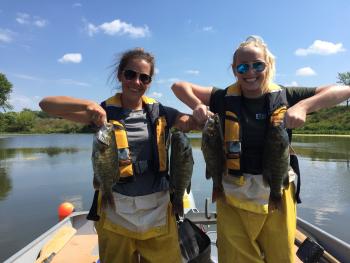 It may be narrow, shallow and turbid over most of its 120-km course, but the South Nation River is a haven for anglers with a wide variety of finned species populating its waters.

The waterway's vibrant fishery is reconfirmed every summer when South Nation Conservation monitors and reports on activity within one of the six River reaches: Plantagenet, Lemieux, St. Albert, Berwick, Hyndman and Spencerville, extending from the headwaters North of Brockville to the Ottawa River near Plantagenet.

Sampling is done with hoop nets. After 24 hours, the nets are retrieved and the number, weight, measurement and age of species caught are recorded. This summer, the St. Albert reach was sampled, with a total of 228 fish caught, logged and released.

Results mirrored samples taken in 2011. Of the total, 81 were Brown bullhead; Yellow perch, Northern pike, and Walleye also filled the nets, along with several additional species.

The largest fish caught was a 555 mm-long Greater redhorse that weighed in a 1.92 kg; the smallest fish was a 25-gram Pumpkinseed.

"Our regular monitoring provides important data that helps establish long-term management decisions to ensure sustainability and health of the fishery," said Ryan Robson, SNC Resource Technician. Annual hoop netting also provides a learning opportunity for some of SNC's summer staffers.

While the River isn't widely recognized as a fishing haunt, licensed anglers in the know frequent the St. Albert reach for Smallmouth bass and Crappie which are abundant and well fed. Each reach provides different fishing opportunities.

"St. Albert and the other reaches are the places to go for some excellent fishing experiences," Robson concluded.

FOR MORE INFORMATION: Ryan Robson, 877-984-2948, ext. 224. rrobson@nation.on.ca.