SNC Reminds Residents to be Cautious Near Lakes and Rivers
---
Submitted by E Thorne on Thu, 16/02/2023 - 5:32pm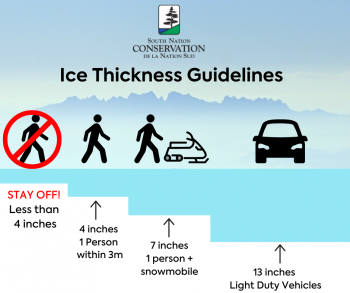 South Nation Conservation (SNC) is reminding residents that although we are currently in the middle of winter, everyone should remain cautious when venturing out near lakes, rivers and riverbanks.
Due to the mild temperatures this winter, ice conditions in the watershed have not yet been safe for recreational activities. The Conservation Authority notes that ice formation on the South Nation River has been sporadic and most spots are not yet thick enough for use.
Forecasted above zero temperatures and rainfall will contribute to the inadequate ice conditions for recreational activities on waterways that would normally be frozen this time of year.
Ice thickness is not usually uniform and can vary depending on outside temperatures, water current and flows, and snow cover. SNC recommends that ice should be at least 15 to 20 cm thick for skating, walking, or pond hockey, and even thicker for snowmobiles.
SNC's "Working on Ice" policy uses the following measurements to inform use:
Less than (4") 10 cm = unsafe
(4") 10 cm = One person, multiple people must remain at least 3 meters apart
(7") 18 cm = One person, snow machine, and equipment trailer
(13") 33 cm = Light duty vehicles separated by a safe driving distance
To celebrate Family Day weekend this February 18th to 20th, all Ontario families and friends can enjoy free fishing, no license required. If you plan on ice fishing, SNC reminds you to always be sure to check conditions with local authorities, or with ice hut operators and other anglers before going out on the ice.

SNC recommends being prepared for a worst-case scenario by letting others know where you are going, when you plan on returning, wearing appropriate clothing, and bringing the proper safety equipment including a life jacket, cell phone, ice pick and throw rope.

Parents are encouraged to explain the dangers of ice to their children: they should never go onto ice alone or follow friends or pets onto potentially dangerous ice, no matter how safe, fun, or frozen the ice may seem.

For more information on winter recreation activities visit: www.nation.on.ca/recreation/winter-recreation

To learn more about Family Day Weekend Free Fishing in Ontario click here.

FOR MORE INFORMATION: Erin Thorne, Communications Specialist, 1-877-984-2948, ethorne@nation.on.ca.