Ottawa River Residents in Clarence-Rockland and Alfred-Plantagenet Invited to SNC Open House to View Updated Floodplain and Erosion Maps
---
Submitted by E Thorne on Tue, 07/03/2023 - 9:37am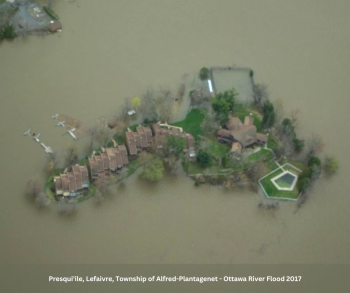 South Nation Conservation (SNC) invites residents to attend an in-person Open House to learn more about floodplain and erosion hazard maps for areas along the Ottawa River, East of the City of Ottawa, within the City of Clarence-Rockland and the Township of Alfred-Plantagenet.

Residents living near or along the river will be able to view property-specific maps to help better understand the risks to life and property in these areas and provide feedback on the mapping.

The information session will take place on Wednesday, March 29th,2023, from 6 pm to 8 pm (drop in format) at the Lucien-Delorme Community Centre in Wendover, Ontario.

Natural hazard maps are used by municipalities and SNC when updating official plans and zoning schedules, and in reviewing development applications to protect people and property from natural hazards (such as flooding) and guide sustainable development activities.

This study was supported by the Government of Canada, the Province of Ontario, the United Counties of Prescott-Russell and SNC to help update the old floodplain maps produced in the 1980s. Through this study, state-of-the-art digital topographic information, field surveys, bathymetry (water depth), and water resource modelling were used to better understand the flow of water and the location of flooding and erosion hazards during various storm events.

More information about the open house and draft floodplain maps can be accessed by visiting www.nation.on.ca/consultations.

SNC maintains online mapping for the "Regulations Area" which is an area where study and permission from the Conservation Authority is required before building permits can be issued. These maps include the greater of either the 1:100 year floodplain (a storm event with a 1% chance of occurring in any given year) or where there are steep slopes or erosion risks.

SNC has also produced various flood risk and storm event maps for municipalities to use during emergency response scenarios and to support building and construction decisions.

SNC updates natural hazard maps on behalf of its partner municipalities, especially in areas with development pressure, which was a key recommendation from Ontario's Special Advisor on Flooding and the "Independent Review of the 2019 Flood Events in Ontario".

Flood elevations from the historic 2017 and 2019 flood events were considered in this study and are also an important reminder of the importance of flood preparedness, along with safe and sustainable community development.

Residents are also invited to schedule in-person or virtual meetings with SNC on weekdays and evenings between April 3rd and April 14th, 2023 to learn more and to view the draft map updates.

FOR MORE INFORMATION: Erin Thorne, Communications Specialist,
ethorne@nation.on.ca, 1-877-984-2948.