SNC Conservation Areas are Now Open!
---
Submitted by E Thorne on Tue, 16/05/2023 - 4:33pm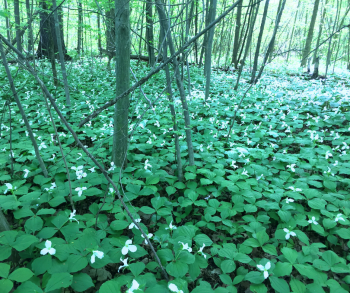 Summer is right around the corner and a sure sign of the changing of seasons is the reopening of South Nation Conservation's (SNC) seasonal properties! All parks and boat ramps are now opened to the public.
SNC has now installed safety and debris booms ahead of its water control structures throughout the region, including Crysler, Casselman, Russell and Plantagenet. Higher than normal water levels this spring are beginning to decline and docks are now being installed at the following Conservation Areas and partner boat launching sites for the May Long Weekend:
High Falls and Doran Park Conservation Areas (Casselman)
St. Albert Conservation Area (St. Albert)
Crysler Park Boat Launch (Crysler)
Embrun Boat Launch (Embrun)
Cass Bridge Conservation Area (Winchester)
Jessup's Falls Conservation Area (Plantagenet)
Chesterville Waterfront Docks and Boat Launch (Chesterville)
Spencerville Mill Riverside Park and Boat Launch (Spencerville)
Additionally, the following seasonal sites without docks have re-opened:
Oak Valley Pioneer Park Conservation Area (Winchester Springs)
McIntosh Memorial Park Conservation Area (Berwick)
Findlay Creek Boardwalk Conservation Area (Ottawa)
Reveler Conservation Area (Crysler)
Mill Run Conservation Area (Augusta)
Alfred Bog Walk (Alfred)
SNC reminds anglers that it is unsafe and illegal under the Federal Fisheries Act to fish within 23 metres of a dam: please do not fish near dams or use water control structures to access rivers. Fish congregate in these areas to pass over dams and access fish ladders and fishing prevents many fish species from spawning, which pose significant risks to fish populations. Please use safe and appropriate fishing locations.
All SNC Conservation Areas and seasonal parks are now opened for public use with portable washrooms being installed at most of the following sites:
St. Albert Conservation Area (St. Albert)
Jessup's Falls Conservation Area (Plantagenet)
High Falls Conservation Area (Casselman)
Warwick Forest Conservation Area (Berwick)
W.E. Burton Conservation Area (Russell)
McIntosh Memorial Park Conservation Area (Berwick)
Cass Bridge Conservation Area (Winchester)
Robert Graham Forest Conservation Area (Brinston)
Nokomis Park (Limoges)
"Now that water levels are beginning to decline, we are thrilled to open our boat launches and seasonal Conservation Areas ahead of the May Long Weekend" said John Mesman, SNC's Managing Director of Property, Conservation Lands and Community Outreach. "Our team has been busy restoring properties and trails since the April 5th Ice storm and visitors may still see some partial trail closures to support tree management, but our parks will remain open to enjoy this summer."

SNC reminds users to please keep their pets on leash, not to litter or remove plants from Conservation Areas, and be respectful and courteous to other visitors.

SNC manages 20,000 acres of Community Forest in Eastern Ontario and many of the public, day-use Conservation Areas have been donated to the Authority through SNC's Land Securement Program to help maintain natural legacies for donors and to provide people a place to step outdoors and into nature.

SNC is a not-for-profit, community-based environmental agency that relies on donations and self-generated revenue to protect and enhance the local environment across its 4,441 square-kilometer jurisdiction, on behalf of its 16 partner municipalities.

For a complete list of Conservation Areas managed by SNC, please visit: www.nation.on.ca/recreation/about-recreation.

FOR MORE INFORMATION: Erin Thorne, SNC Communications Specialist, 1-877-984-2948 ethorne@nation.on.ca.