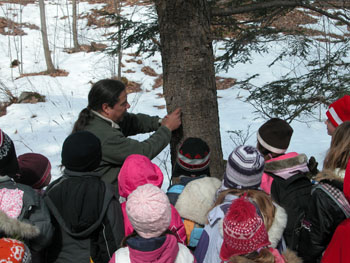 We have proudly hosted the Maple Education Program for the last 20 years; however we are using this maple season to redevelop the program. As a result, we will not be offering any tours this year. A new program, with new tour venues will be available in the spring of 2019.
Learn the process of maple syrup production, as it has evolved from Aboriginal traditions, through to modern day production techniques. The program features guided tours along interpretive trails and a visit to a working evaporator.
If you are still interested in bringing the maple program to your classroom, we have many free educational kits which we can loan out to teachers. 
Thank you for your interest in our Maple Education Program and stay tuned!