Findlay Creek Boardwalk Extension Underway in the Leitrim Wetland
---
Submitted by E Thorne on Sat, 28/01/2023 - 9:28am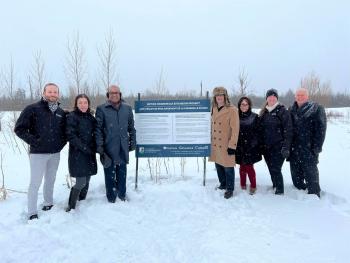 South Nation Conservation (SNC) is planning the extension of Ottawa's Findlay Creek Boardwalk within the Leitrim Wetland, thanks in part to a $750,000 investment from the Government of Canada through Canada's Community Revitalization Fund.

The Findlay Creek Boardwalk was originally built by SNC in 2012 with support from Tartan and Tamarack Homes to provide recreational access to the Leitrim Wetland. SNC has been working with the Leitrim Wetland Advisory Committee to oversee the management and stewardship of the Leitrim Wetland and to fundraise for the completion of the looped boardwalk extension.

Nepean MP Chandra Arya helped announce the federal funding on January 25th, 2023, at the proposed new entrance of the boardwalk along Findlay Creek Drive.

The Leitrim Wetland is a Provincially Significant Wetland (PSW) and ecologically significant area surrounded by urban development. SNC currently owns a portion of the wetland and is finalizing the transfer of ownership of a large block of the remaining PSW.

"SNC owning the majority of the Leitrim Wetland will ensure its preservation and protection in the future, while also allowing residents to explore and appreciate a unique natural feature in their community," explains Michelle Cavanagh, SNC's Special Projects Lead.

The planned extension to the current boardwalk will add approximately 540 meters of elevated looped pathway with two entrances for residents to walk through. Cavanagh adds, "It will benefit the residents to have more access to the Conservation Area and to provide more learning opportunities about the wetland habitat and the unique animal and plant communities found within this 330-acre portion of the wetland."

Some work is planned to start in late February 2023, a time of year that would lessen the disruption to the habitat. "It is best for work to begin during winter when the ground is frozen. Disturbance to the habitat will be significantly less when the vegetation is dormant, and the water is frozen" Cavanagh explained.

Environmental studies inform the preferred location of the boardwalk and design drawings are now available for stakeholder and community feedback.

A public information session will be hosted on February 1st, 2023, from 7:00 pm to 9:00 pm in the Library at Vimy Ridge Public School in Findlay Creek. Residents are encouraged to drop by during this time to view the draft designs and drawings and share feedback with SNC.

To learn more about the Findlay Creek Boardwalk Extension Project visit: https://www.nation.on.ca/projects/findlay-creek

Click here to see rendered design drawings of the boardwalk extension.

FOR MORE INFORMATION: Michelle Cavanagh at 1-877-984-2948, mcavanagh@nation.on.ca.