South Nation Conservation - Governance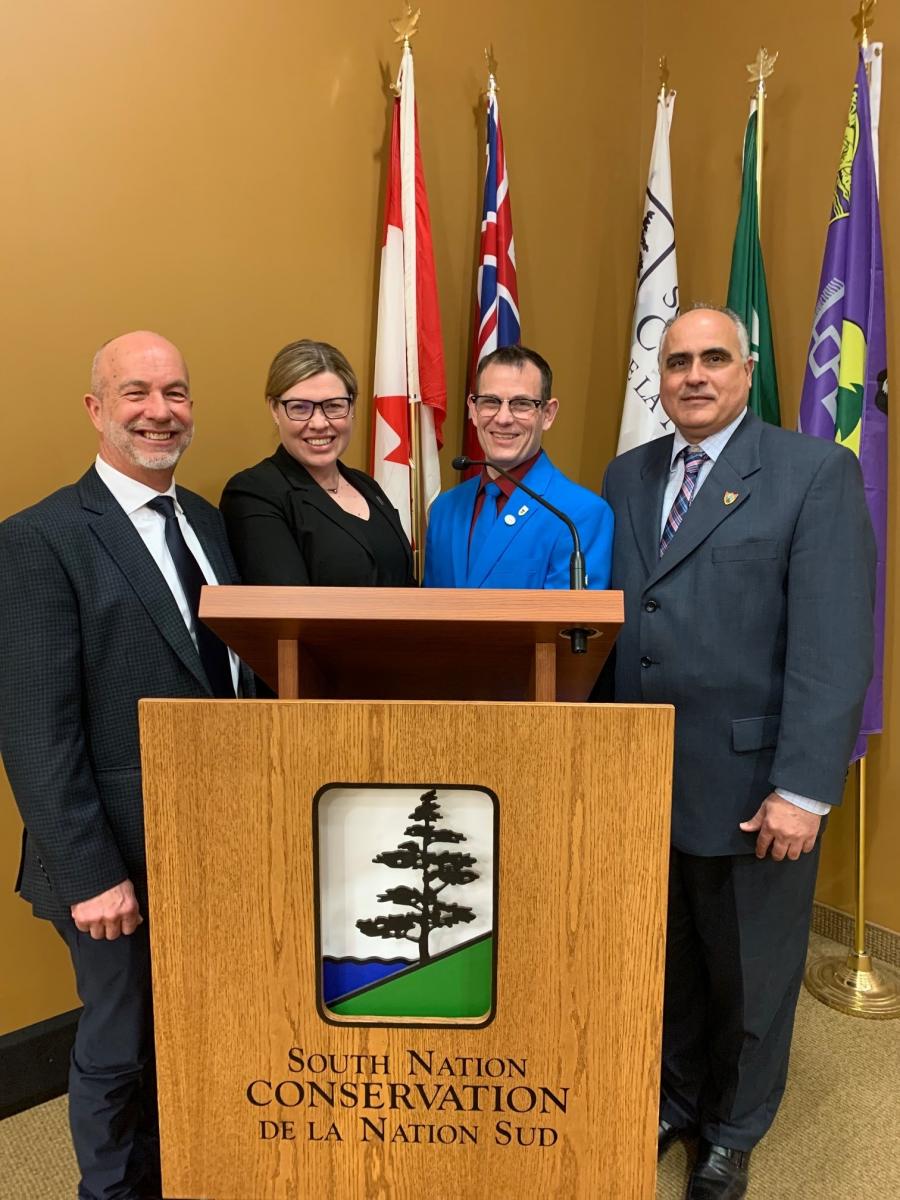 Board of Directors
Municipalities within our jurisdiction appoint representatives to the Board of Directors, which oversee SNC's budget, programs, and services.
SNC's Board of Directors is comprised of 12 representatives from 16 member Municipalities.
2022-23 Executive
Chair: Pierre Leroux, Mayor, Russell

Vice Chair: Steve Densham, Municipal Councillor for North Stormont
Past-Chair:  George Darouze, Councillor, City of Ottawa
2022-23 Municipal Representatives:
City of Ottawa 
Allan Hubley, Councillor
Gerrie Kautz, Public Representative
Catherine Kitts, Councillor
United Counties of Prescott and Russell
François St. Amour, Mayor, La Nation
Mario Zanth, Mayor, Clarence Rockland
United Counties of Stormont Dundas and Glengarry                                
Archie Mellan, Councillor, South Dundas
Bill Smirle, Public Representative
United Counties of Leeds Grenville
Dana Farcasiu, Public Representative, North Grenville
John Hunter, Councillor, Edwardsburgh Cardinal
---
Board of Directors Meetings
Board of Directors meetings are hosted every month at the South Nation Conservation Authority administrative offices, located at 38 Victoria Street in Finch, Ontario.
Board meetings are scheduled for the third Thursday of each month, except for July. Meetings are open to the public and begin at 9:00 a.m. Please access this page for information on delegation requests. 
Board agenda packages are posted online one week prior to the Board meeting date.
Click here to access the schedule, meeting packages, and more information.
To access archived versions of the Board agenda packages, please contact:
info@nation.on.ca | 1-877-984-2948
---
Board Policies & Guidelines
South Nation Conservation's Transition Plan can be accessed here. 
This Transition Plan identifies the steps South Nation Conservation will undertake to meet Phase 1 and Phase 2 transition period requirements prescribed under Section 21.1.2 of the Conservation Authorities Act and
Ontario Regulation 687/21.
South Nation Conservation Administrative By-Laws can be accessed here.
South Nation Conservation's Policies and Procedures are passed under powers conferred on the Authority by the Conservation Authorities Act, RSO 1990, Chapter C. 27. The Administrative By-Laws – Board of Directors is intended to be used by SNC as a governance and administrative policy implementing Section 19.1 of the Conservation Authorities Act, as amended by the Building Better Communities and Conserving Watersheds Act, 2017.
---
Agreements & Reports
---
Standing Committees
Four Committees review SNC programs and develop recommendations to the Board. They include representatives from the general public, community groups, agriculture, business, industry, municipalities, government, and the Board of Directors. SNC environmental stewardship success depends upon partnerships to build strong, sensible programs with broad-based support.
Clean Water
The Clean Water Committee's main function is to administer water quality improvement programs. This includes the Clean Water Program, a grant-giving initiative that helps landowners protect surface and ground
water quality.
Communications
The Communications Committee meets regularly to review internal and external communications, including online campaigns, media releases, special events, and fundraising. The committee also administers the Community Environmental Grant Program, offering $300 grants to events within the SNC jurisdiction.
Fish and Wildlife
The Fish and Wildlife Committee has a wide membership with both formal training and years of experience on which to draw. Biologists, life-long fishermen, professional anglers, students, and wildlife technicians meet four times a year to discuss the state of the South Nation Watershed.
Forestry
The Forestry Committee provides guidance on the delivery of forestry programs, including the sustainable management of the SNC and SDG Forests. Members include representatives from the Ontario Ministry of Natural Resources, forestry consultants, farmers, rural landowners, board members, contractors, and provincial and municipal governments.
South Nation Conservation also works with indigenous partners through the Eastern Ontario First Nations Working Group to address environmental issues, ensure the protection of culturally significant species on SNC and SDG-owned Land, and to collaborate on shared projects to help improve biodiversity within the region.