South Nation Conservation - Governance
Board of Directors
Municipalities within our jurisdiction appoint representatives to the Board of Directors, which oversee SNC's budget, programs, and services.
SNC's Board of Directors is comprised of 12 representatives from 16 Municipalities across it's jurisdiction.
2021-22 Executive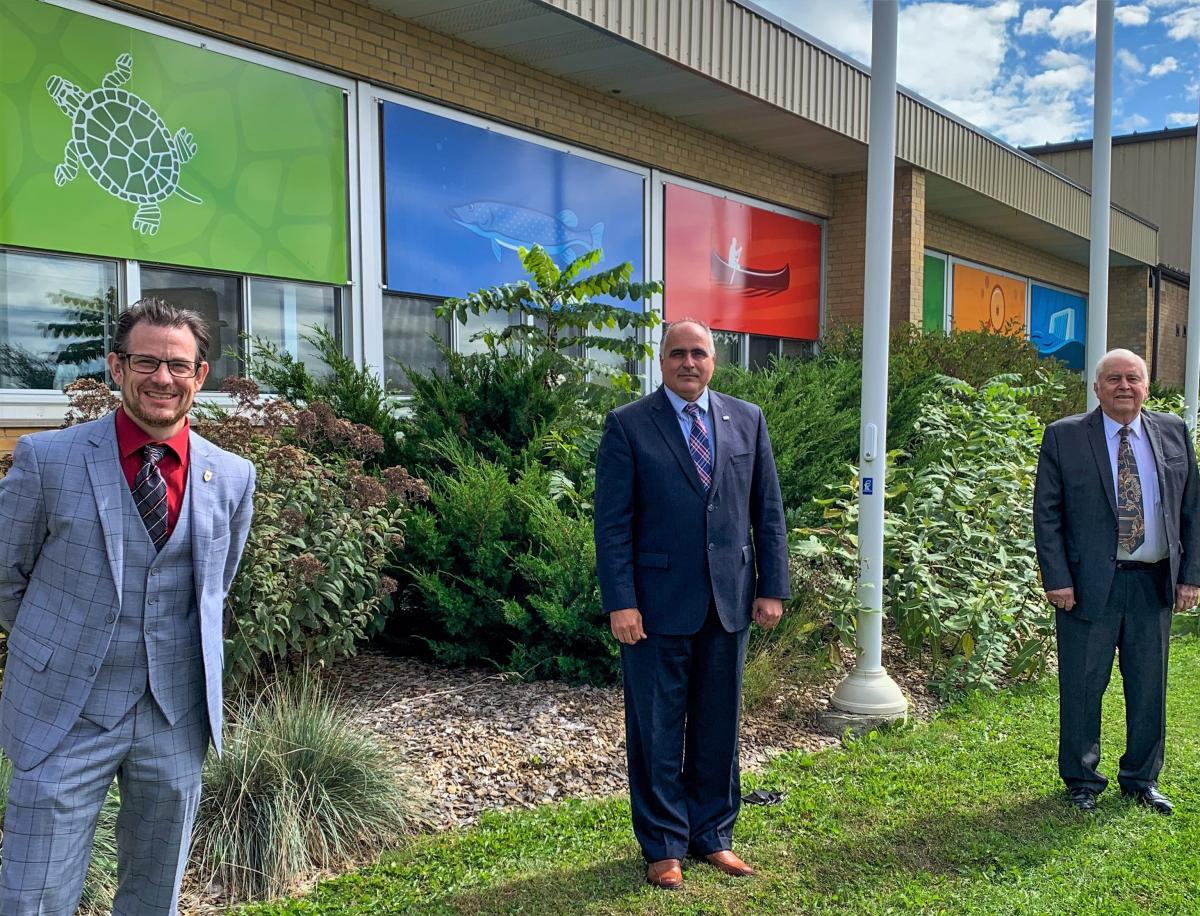 Left: Pierre Leroux, Vice Chair - Centre: George Darouze, Chair - Right: Bill Smirle, Past Chair
2021-22 Executive
Chair:                              George Darouze, Councillor, City of Ottawa
Vice Chair:                      Pierre Leroux, Mayor, Russell
Past-Chair:                     Bill Smirle, Public Representative, Stormont Dundas Glengarry
2021-22 Municipal Representatives:
City of Ottawa 
Michael Brown, Public Representative
Gerrie Kautz, Public Representative
Catherine Kitts, Councillor
United Counties of Prescott and Russell
François St. Amour, Mayor, La Nation
Mario Zanth, Mayor, Clarence Rockland
United Counties of Stormont Dundas and Glengarry
Steve Densham, Councillor, North Stormont                                 
Archie Mellan, Councillor, South Dundas
United Counties of Leeds Grenville
Dana Farcasiu, Public Representative, North Grenville
John Hunter, Councillor, Edwardsburgh Cardinal
To access archived versions of the Board agenda packages, please contact:
Dianne MacMillan, dmacmillan@nation.on.ca | 1-877-984-2948
Click here to view the calendar of board and committee meetings
South Nation Conservation Administrative By-Laws can be accessed here.
Standing Committees
Four Committees review SNC programs and develop recommendations to the Board. They include representatives from the general public, community groups, agriculture, business, industry, municipalities, government, and the Board of Directors. SNC environmental stewardship success depends upon partnerships to build strong, sensible programs with broad-based support.
Clean Water
The Clean Water Committee's main function is to administer water quality programs. This includes the Clean Water Program, a grant-giving initiative that helps landowners protect surface and ground water quality.
Communications
Responsible for all internal and external communications, the 12-member Communications Committee meets regularly to discuss promotion, press releases, special events, and fundraising.
Fish and Wildlife
The Fish and Wildlife Committee has a wide membership with both formal training and years of experience on which to draw. Biologists, life-long fishermen, professional anglers, students, and a wildlife technician meet four times a year to discuss the state of the South Nation fishery.
Forestry
The forestry committee provides guidance to SNC staff in the delivery of its forestry program. Members include representatives from the Ontario Ministry of Natural Resources, forestry consultants, farmers, rural landowners, board members, contractors, and provincial and municipal governments.