"All About the River" Event at Morrisburg Waterfront Highlights Free Recreational Activities on Local Waterways
---
Submitted by E Thorne on Wed, 19/07/2023 - 10:27am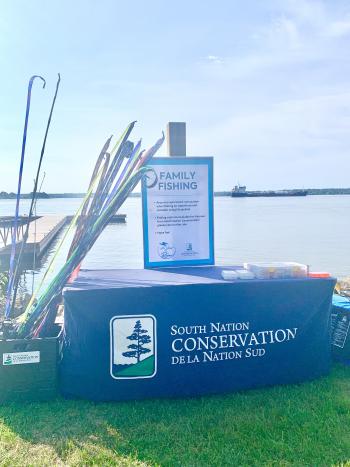 South Nation Conservation (SNC) works with community partners to support environmental events along waterways to showcase and improve the local environment while providing cost-effective recreational opportunities for families and visitors.

Environmental projects and events are supported through SNC's "Community Environmental Grants Program" which helped establish and develop the "All About the River" event which returned to the Morrisburg Waterfront on July 15th, 2023. The event attracted visitors from across the region between 10 AM and 2 PM to celebrate and highlight the beautiful St. Lawrence River.

The event is supported by community members, scientists, and environmentalists who live along, know, care for, and study the St. Lawrence River and who work to promote education and awareness into what the Mohawks call "Kaniatarowanenneh", or the "Big Waterway", a river system with Indigenous use that dates back over 9,000 years.

MP Eric Duncan and MPP Nolan Quinn helped kick-off the event on Saturday and welcomed exhibitors including SNC, Plenty Canada, Watersheds Canada, the River Institute and a variety of local artists and vendors. The event was supported by SNC and the Municipality of South Dundas.

SNC provided free fishing rods and bait so visitors could learn more about sustainable angling practices and fish off the docks during the day. Youth under 18 years old can always fish for free without a license and were able to learn more about fish species within the St. Lawrence River during the event.

Whether it's along the South Nation, St. Lawrence or Ottawa River, SNC supports initiatives from partners that encourage residents to learn more about their local environment. "SNC works with community partners and volunteers to create opportunities for families to step outdoors and experience nature," says Erin Thorne, SNC Communications Specialist. Adding, "we're proud to work with our partner municipalities and community groups to support events like these."

SNC can also support projects that protect or restore the environment, encourages the recreational use of conservation lands, or activities that promote the area's natural heritage. Non-Profit groups are encouraged to apply to receive a grant of up to $300 to help offset costs of public events or activities.

For more information, Erin Thorne, Communications Specialist,

ethorne@nation.on.ca, 1-877-984-2948.